February 14th 2020, 1:34 pm
By Paul Alster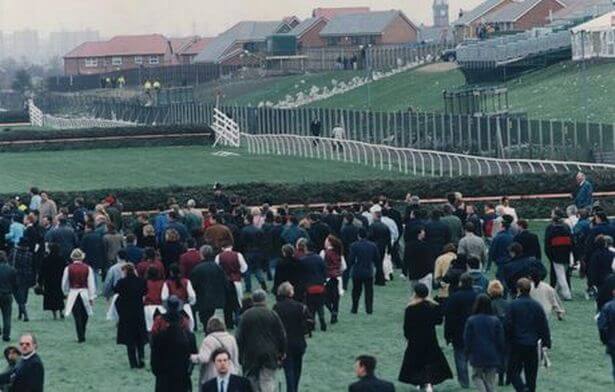 So the 2020 Randox Health Grand National weights have been published. The build-up to the greatest race on earth now starts in earnest. Form students will be burning the midnight oil attempting to assess which horses, in their opinion, have been given a chance by the handicapper, and which face too stiff a task due to weight, current form or possible stamina issues.
The quest to find ante-post market value and to try and find a 'live one' that has slipped under the radar has always been the challenge that most attracts me to this great sport. One always unpredictable facto is the ground; on quicker-than-average ground or in a quagmire, you can often throw the form book out of the window.
Testing ground can make all the difference
The recent torrential conditions remind me of the winter of 1994 when there was more than the usual amount of precipitation and long-range forecasters were suggesting it would continue to be a wet winter and early spring.
I was already on the lookout for a mud-lover on which to nail my colours for the National when I noticed a huge mountain of a horse trained by Somerset-based permit holder Henry Cole finish a staying-on second over four miles in very soft ground at Cheltenham's New Year's meeting.
His name was Just So and he kept plodding on honestly through the mud up the Prestbury hill to chase home the useful Moorcroft Boy, despite being a stone out of the handicap. This horse "stays longer than the mother-in-law" (a phrase commentator Simon Holt had made his own), I thought to myself. He was 100/1 in the ante-post lists for the Grand National, due to his low rating and the fact he was a long shot to even make the cut.
Wet winter could make for heavy-ground National
Very soft or heavy ground suits only a handful of horses over the extreme trip at Aintree but I thought it worth an each-way investment at those odds, and worth chancing that good old Michael Fish at the BBC weather centre might be on to something with his wet winter prediction. He was reportedly better at forecasting wet weather than hurricanes!
When I told my press room colleagues I'd backed Just So for the National, there was uproarious laughter. "He won't make the cut and if he does," they said, "he'll be finishing when they go down to the post for the following race." One well-known northern journalist re-christened my choice "Just Slow".
A few weeks later, Just So won the Grand National Trial at Chepstow. Only three finished, so the form looked a touch suspect. He failed to cut much ice when seventh in the Midlands National the time after under regular amateur rider Mr Simon Burrough, but Cole's thorough stayer did make the cut for the Grand National, with many better horses forsaking the challenge due to the heavy ground. Mr Fish had been right this time.
Big gamble prompted by underfoot conditions
On the big day, Just So ran from a massive 22lb out of the handicap, including 3lb overweight as his jockey couldn't get down to 10 stones. Following the final declarations (and with the rain still falling) a public gamble began to develop on the rank outsider whose odds eventually tumbled from 100/1 to an SP of 20/1.
Always outpaced whatever the distance, it was with astonishment that I saw Just So begin to make ground after the water jump after the first circuit. As the desperate conditions took their toll, Burrough made good ground to track the leaders at Becher's second time round. Clearly, the heavy ground had slowed everything else down and Just So was revelling in the mud.
Shock as Just So hit the front
When he took a narrow lead from Minnehoma and Ebony Jane at Valentines, a number of press colleagues moved alongside to view proceedings.
"You know, Paul, you've got half a chance here!" Believe me, I already knew. My binoculars were shaking. I had a pocketful of ante-post each-way slips and dare not even dream the impossible might actually happen. This is what makes the Grand National such a unique race. The unpredictability. The little guy beating the big guys.
Still upsides two from home, Just So made his first real error and Minnehoma, Moorcroft Boy and Ebony Jane, the Irish National winner, duly went sailing by. Surely the game was up for my slowcoach as much classier horses sprinted away from him.
He's renewing his effort
Moorcroft Boy and Minnehoma were upsides going to The Elbow but it was clear Martin Pipe's Minnenhoma, owned by comedian Freddie Starr, was going much better. He began to pull away. Then, quite out of the blue, "Just Slow" got a second wind and began to run on again – powerfully. Pulled to the centre of the run-in, he was galumphing his way relentlessly through the poached ground.
"Just So putting in a tremendous challenge," roared Sir Peter O'Sullevan. "Minnehoma and Just So as they race towards the line…"
He got to within half a length but the class of Minnehoma, who went on to be third in the 1995 Cheltenham Gold Cup, carried him through. Just So finished a supremely gallant length-and-a-half runner-up – from 22lb wrong at the weights! Had that extra 3lb overweight been the difference between victory and defeat? We'll never know.
Grand National Trial may provide valuable clues
Just So's unlikely second place paid for my summer holiday. You don't need to have much on at 100/1 each-way to make it pay and he will always remain one of my favourite horses because of heroics that April day.
This weekend's Grand National Trial at Haydock will be run on similarly heavy ground. Who knows, if you look hard enough, there might be another surprise package lurking there that could give you one of the punting thrills of a lifetime. They say 2020 is going to be a very wet winter…
Latest News
October 26th 2023, 1:24 pm
RACING-ENG-NATIONAL Jockeys ride their horses after starting the Grand National horse race on the final day of the Grand National Festival at Aintree Racecourse on April 6, 2019. Oli SCARFF / AFP The most famous steeplechase in the world, the Randox Grand National at Aintree, is set to undergo some significant change from 2024 onwards […]
October 11th 2023, 12:27 pm
Image via @GBRacing on X Trainer Christian Williams is looking forward to the journey that he hopes will bring him to Aintree in the spring with star staying chaser Kitty's Light for a tilt at the Grand National. The Ogmore Castle-based handler is adamant that Kitty's Light is 'made' for Aintree in the spring and […]
September 20th 2023, 10:43 am
Image via @RacingTV on X Grand National hero Corach Rambler is likely to begin the new season at Kelso in late October, says trainer Lucinda Russell. The three-and-a-quarter-mile Edinburgh Gin Chase at the Borders track on October 28th is being touted as a starting point for a horse with Cheltenham Gold Cup aspirations this season. […]