2021 Confirmed Grand National Runners
Last Updated 1 hour ago | Commercial content | 18+ | Play Responsibly | T&C Apply | Wagering
See the full list of winners runner-by-runner including riders that finished the Grand National 2021:
*Odds are correct as of the beginning of the race.
After the cancellation of the Grand National 2020, Grand National 2021 Ante post markets are beginning to open and we're seeing some horses with odds on running in the next Grand National. Below you'll find a list of Grand National Runners leading up to Aintree 2021 as soon as we hear about them. As we draw ever nearer to the 2021 Aintree Grand National, the field will whittle down to a maximum of 40 Grand National runners (plus 4 reserves).
The back-to-back winner in 2018 and 2019, Tiger Roll, has been removed from the upcoming Grand National 2021 race due to "unfair weight" allocation. Keep an eye on Cloth Cap, who seems to be a market mover and the current 2021 favourite.
Grade 3, £1,000,000 Total Prize Fund
Four miles, three and a half furlongs
Maximum field of 40 plus four reserves.
Entries closes January 29, entries revealed January 30 (112 entries), weights revealed February 16, first scratchings deadline March 2, second scratchings 3 weeks later, five-day confirmations April 5, final declarations 10am April 8.
Run on in early April each year, the build-up to the Merseyside marathon always starts months before the big day. However, not all horses can run so from now until just a few days before the race we'll see many horses drop out.
How many runners are in the Grand National? For safety reasons, the Grand National is always capped at 40 horses so between now and April 6th we are going to see 65 horses fall by the wayside. There are various declaration stages during February, March and April which also help whittle done the entries to the 40 Grand National Runners.
Who decides which horses run in the Grand National? After the 172nd running was cancelled, the 173rd running will have the weights for the Grand National released in February 2021 by the British Horseracing Authority's head of handicapping. They decide the weights and ratings for the runners entered which will invariably end up being a deciding factor of which the final 40 runners will be on the day.
Once each horse has been allocated a weight to carry this will give us a better idea which entries will be the actual Grand National Runners for 2021 – in the world's richest and greatest steeplechase. Plus, the 2021 Grand National betting market normally has a shake-up after these weights are announced.
Bet on the Grand National Ante-Post Betting Market here
*All odds at time of publishing. All subject to change.
Favourites
There are dozens of horses carrying the hopes of their owners and trainers. The ante-post market for the Grand National, however, shows some particularly well-backed horses. Here is a guide to the prospects for three leading contenders:
Cloth Cap
Chase Wins over 3 Miles: 1
Places This Season (Most recent first): 1st 1st 3rd
Career Prize Money:  £198,098
Cloth Cap is a very short price favourite for the Grand National. It's rare for a runner to be single figure odds but Cloth Cap is as short as 5/1 with some bookmakers. Only three horses this century have won the National at a Starting Price of less than 10/1.
Cloth Cap won the Ladbrokes Trophy impressively and the race is a major form guide for the Grand National. The last run at Kelso at the start of March over almost three miles was an excellent prep-race for the National. The owner, Sir Trevor Hemmings, has won three Grand Nationals.
Any Second Now
Chase Wins over 3 Miles:  1
Places This Season (Most recent first): 1st Pulled Up
Career Prize Money: £171,136
Any Second Now was prepared and primed to run in the 2020 Grand National but the race did not take place. The objective has remained the same over the last 12 months which is to win the greatest steeplechase in the world and Any Second Now is 12/1 to do just that.
The horse is trained by Ted Walsh who prepared Papillon to win the Grand National in 2000, ridden by his son Ruby who has now retired. That horse was also aged nine and carried 10-12 so Any Second Now has a good profile for the trainer's potential winners.
Kimberlite Candy
Chase Wins over 3 Miles: 2
Places This Season (Most recent first): 2nd 1st 2nd
Career Prize Money: £144,631
Kimberlite Candy has experience jumping the spruce Grand National fences. The horse was the runner up in the 219 and 2020 Becher Chase. That race is run over one and a about a third of the full Grand National course and distance so every National fence is jumped at least once.
The win in three miles and five furlongs handicap chase at Warwick in January 2020 was outstanding form in the context of the Grand National. Carrying 11-04. Kimberlite Candy beat some decent chasers and displayed the stamina and jumping required for the Grand National.
Tiger Roll
Surprising or not, Tiger Roll has been removed after being assigned, according to owner Gigginstown, an unfair weight. Tiger Roll has been a market leader and the head of favourites, but now the list is quickly shifting.
Previous Grand National Winners
With no real race in 2020, the televised Virtual Grand National was the main event. 18/1 shot Potters Corner took the computerised race, with Walk In The Mill second at 16/1. 5/1 favourite Tiger Roll was only fourth.
As for our real Grand National heroes, here are the last ten winners of the National Hunt's most valuable race:
2021 – Minella Times
2019 – Tiger Roll
2018 – Tiger Roll
2017 – One For Arthur
2016 – Rule The World
2015 – Many Clouds
2014 – Pineau De Re
2013 – Auroras Encore
2012 – Neptune Collonges
2011 – Ballabriggs
2010 – Don't Push It
Grand National Entries 2021
As long as horses meet the criteria, there is essentially no limit to the number of initial entries. On the day, however, a total of 40 horses can run.
As well as the official criteria, trainers and owners have to answer questions regarding their own horses. Will they stay the trip? Are they well handicapped? Is the ground suitable? Are they in good form?
Everyone involved has a balancing act to manage too. Those entered in the Grand National who are not jumping or staying well should not be involved. However, those in the form of their lives may have to put up with a very large racing weight given to them by the handicapper.
Many horses are still considered to be contenders in 2021, these being some of the key stats regarding them:
Tiger Roll is 2/2 at Aintree, both in Grand Nationals.
Gordon Elliott trains 3 of the main contenders – Presenting Percy and Champagne Classic.
Trevor Hemmings owned 3 Grand National winners, he has main contenders Cloth Cap and Lake View Lad.
Perennial leading owner JP McManus has won the Grand National only once. He does have Kimberlite Candy, Any Second Now, and Anibale Fly as top candidates this time.
Potters Corner has won the Welsh Grand National and the Virtual Grand National already.
Only 2 Grand National winners have been trained in Scotland (1979 and 2017), though Harriet Graham's Aye Right and Nick Alexander's Lake View Lad have great chances now.
How are the Grand National Runners Decided?
Click to enlarge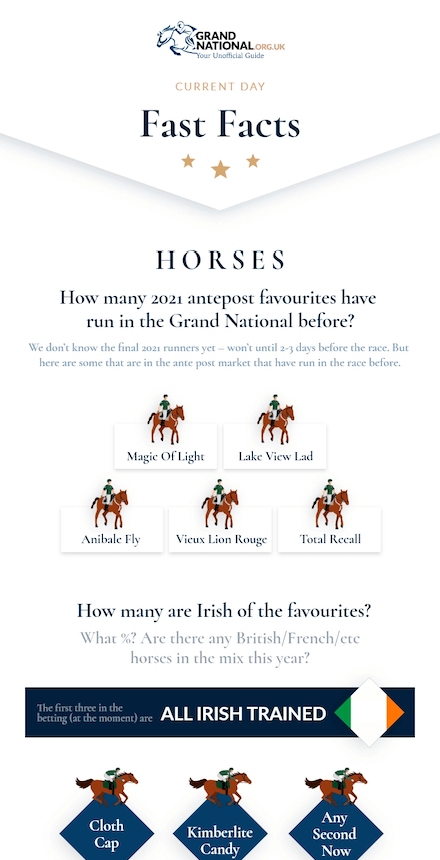 The final declarations for the 40-runner line-up are published on Thursday, April 8th. As the Grand National is a handicap, essentially the best 40 runners in terms of ratings are permitted to run.
Those rated highest by the BHA handicappers carry the most weight, while those at the bottom of the weights are balloted out once the field is full.
Owners and trainers also need to decide on a few things before entering their horses. Finding a horse who can stay the 4¼-mile distance and jumps well is crucial.
Employing the right jockey is also a major consideration. The very best riders based in both the UK and Ireland will be booked for National rides. Some, of course, are already retained by certain stables or certain owners.
In terms of past form, those having won a strong staying race are given preference. Cheltenham Festival form is crucial in terms of the betting however it doesn't always mean very much in reality as many top Grand National candidates skip the Festival altogether.
Grand National Non-Runners
After the official final declarations for the race take place, any horse then that is being pulled out is a 'non-runner'. In this case, the final field is declared on Thursday, April 8th.
To try to keep the race to 40 runners, the Grand National allows 'reserves'. Given enough time, those reserves can be called into the field to replace a non-runner.
Horses are often pulled out for a number of reasons. A change in the ground or a veterinary issue being most likely. In recent years, these horses were all pulled out after being declared:
Regal Encore
Walk In The Mill
O'Foalains Boy
Carlito Brigante
What to Look for When Finding a Winning Horse?
There are certain criteria for horses to meet in order to qualify for the Grand National. For those looking to bet, understanding these things means not only knowing who will run but often how well too.
Weight
As a handicap race, the weights for Grand National runners are basically decided according to their official rating. So, if the top horse is rated 170 and carries 11st10lbs, then a horse rated 167 would carry 11st7lbs etc.
Given the special nature of this race, however, the head BHA handicapper has dispensation to change the ratings and the weights somewhat. The handicapper can use other factors such as proven form at Aintree to adjust the weights. He will frame the weights a couple of months before the race before publishing them.
The top-rated horse in the line-up will carry 11st10lbs. In years gone by it was thought nigh impossible for horses to carry such weights to win the National. Things are different now. The classier horses at the top of the weights have every chance of winning this, especially if the ground isn't too testing.
Age
Only those aged 7 and over can enter. This was raised from 6 recently, but in truth, no horse aged younger than 8 has won since 1940.
Horses between 8 and 11 are thought of as being at the perfect age. Even then though, a lot will depend on what form they are in and whether it's believed a new career peak is realistic regardless of how old they are.
Career
There isn't a set career path for a Grand National contender. Race set-ups in the UK and Ireland are different but equally fruitful.
The trick is not to follow horses coming from certain races.
Rather, it is best to find a horse which is about to peak. Those running to their best form this season, but not necessarily badly weighted, are favoured.
Stamina
Only those who have been placed in a recognised chase over 3 miles or longer can enter. That is because of safety concerns, but as punters, we can take that a step further.
In truth, what we really want to see is a horse who has won at least once over 3 miles. We'd rather see those wins being gained in good quality races too.
Horses with the previous form in the Grand National, the Welsh Grand National or over 3m+ at Cheltenham often go on to do well.
The Jockeys
There are always safety concerns when it comes to the Grand National. To be allowed to ride, jockeys must have ridden at least 15 winners under rules in Britain or Ireland. Ten of those wins need to have been over fences rather than hurdles too.
Once that criteria is met, any jockey can be booked in theory to ride any horse. Some jockeys, of course, are associated with certain stables or owners and will be retained to ride by them.
The vast majority of winning riders, in fact, can thank their retainers for their wins. Rarely will it be a chance ride gained by an agent when a jockey is successful at Aintree.
However the jocks get their mounts, this is a race that can make a career for them. Leighton Aspell managed to win this race twice in a row for two different trainer/owner combinations. The two greatest riders in recent years, AP McCoy and Ruby Walsh won this race only once and twice respectively.
The truth is, despite the difficult nature of this race it is not only the top riders who win it. It's all about the horse's ability here, and all will be ridden by competent jockeys on the day. Don't be put off by the rider, for sure.
Grand National 2019 Results
Tiger Roll wins the Aintree Grand National 2019! Tiger Roll is the first horse in 45 years to win back-to-back Grand Nationals.
1 Tiger Roll (D N Russell) 4-1 Fav
2 Magic Of Light (P D Kennedy) 66-1
3 Rathvinden (R Walsh) 8-1
4 Walk In The Mill (James Best) 25-1
5 Anibale Fly (Ruby Walsh) 10-1
In 2018 and 2019 we saw Gordon Elliott's powerful Irish yard win the Grand National for the second time after their Tiger Roll held on in a gruelling finish.
To qualify, horses must have run at least three times in chases under the Recognised Racing Authority Rules of Racing up to and including February 10. Horses may be allocated a rating after then, by the handicapper. The decision of the BHA Head of Handicapping shall be final.
Bet on the Grand National Ante-Post Betting Market here
*All odds at time of publishing. All subject to change.
Grand National Runners FAQ
Find more relevant information in the FAQ section below.
Will the 2021 Grand National go ahead?
Yes! Even if crowds are not allowed at Aintree, the race will still take place this year.
When is the Grand National?
Saturday, April 10th 2021. The three-day festival gets going on April 8th, which is also when the final declarations are published for the Grand National.
Who are the 2021 Grand National runners and riders?
Near the head of the market, we have Magic Of Light, Cloth Cap, and Kimberlite Candy.
Who will win the Grand National 2021?
It's very tough to say, but a horse with the profile of Kimberlite Candy will go very close if not finding bad luck.
Who Won the Last Virtual Grand National?
The winner of the Virtual Grand National in 2020 was Potters Corner. Walk In The Mill finished second, while Any Second Now was a place further back in third.
Can the Virtual Grand National Determine the Real Aintree Winner?
The Virtual Grand National was last successful in predicting the winner of the featured race in 2018. It successfully predicted that Tiger Roll would win the National. However, it was less successful in 2019, as it predicted that Rathvinden would win the race, and Tiger Roll would finish second.
How Many Fences Do the Horses Jump in the Grand National?
30 fences are taken by the field over a trip just short of 4¼ miles.
Our Content
*We hope you enjoyed the selection bookies we recommended! Just to be clear, grandnational.org.uk may collect a share of sales or other compensation from the links on this page.
You might also like…