Last Updated 3 hours ago | Commercial content | 18+ | Play Responsibly | T&C Apply | Wagering
The whole nation loves to get in on Grand National betting. And everyone seems to have their own method for making their Grand National betting selection. For many, it will be their only bet of the year – 'once-a-year' punters, while more dedicated horse racing fans will look at the race in more detail.
After the Grand National weights are announced each year (February), the Grand National odds can change a lot. We will update this page for the ante post favourites and the best Grand National bets you can find with the best UK bookmakers as we near the next Grand National.
The average odds of a winning Grand National horse are around 20/1.
Grand National Betting Favourites
Grand National Betting Latest News: On 16th February the odds have been updated after the weights announcement. Tiger Roll, the big favourite, has just withdrawn after receiving a weight 7lb higher than when he retained the Grand National crown in 2019. The new favourite rising through the Ante Post market is Cloth Cap. Follow the updates in the next few days.
The 2021 Grand National to be held at Aintree Racecourse on Saturday, April 10th at 5.15 pm Sponsored by Randox Health, it is a UK handicap steeplechase over 4 miles 514 yards with horses jumping 30 fences over two laps and probably the most famous horse race in the world.
Check out our full list of Runners for Grand National 2021 here!
Grand National Betting Offers
Here is a list of the major UK Bookmaker Sign Up Offers for Grand National Bets:
Grand National Betting Offers
Free Bets, Non-Runner & Enhanced Odds
Key Features
Go To Bookmaker & Sign Up
Grand National Special Offers Free Bets, NRNB, Best Odds Guaranteed, Extra Places
Special offers will be added closer to the event! Come back soon!
Paddy Power
Paddy Power is one of the best bookmakers around. Also, horse racing and the Grand National, in particular, is their staple so good deals are virtually guaranteed.
Money back deals, risk free bets and best odds guaranteed have all been offered before on the Grand National. Extra places are another bonus offered here at Aintree, making Paddy Power one of the better options on the market.
William Hill
William Hill is one of the oldest and most popular horse racing-focused bookmakers around, there being undoubted confidence in them. The Grand National is their biggest money maker of the season too. That means National offers will be in abundance.
Live streaming of the race is available, as are BOG and extra place deals. New customer offers can be used for Grand National bets too at William Hill, making them a very strong proposition.
Ladbrokes
Along with William Hill, Ladbrokes are one of the big two historically significant bookmakers in the UK. That strong history doesn't mean they aren't modern though, and their Grand National deals prove that.
Last year Ladbrokes paid out on 5 places instead 4, so it's hoped they do so again. 'The Magic Sign' also show the race live via streaming, while you can also bet in-running. With a new customer offer too, Ladbrokes are recommended.
bet365
In the internet era, no bookmaker has been as strong as bet365. Their various offers have so far been their best Grand National deals, but there is more to come.
Live streaming, a big new customer deal and extra places all make bet365 a strong proposition. Best odds guaranteed is almost always available, while NRNB deals also exist for Aintree. Overall, bet365 is a remarkable bookmaker. (All the offers are subject to Terms and Conditions. Live streaming is not available in all the markets.)
Unibet
Unibet's horse and greyhound racing are in the same section of their site, so do keep an eye out. They will, of course, be offering many markets specifically on the Grand National and their odds appear fair.
Last time around there weren't particularly any strong National-specific offers at Unibet, but better is expected now. Unibet is one of the younger companies, getting better with time, BOG and extra places being part of their strengths.
Betfred
Betting on the Grand National using Betfred's ante-post listing will get you 4 places, but better is to come. Near race time when the final field is known, Betfred usually offers extra places on the Aintree spectacular.
Betting each-way down to 5th or even 6th place gives extra confidence and a little insurance. Betfred's platform is professional and easy to use, while their odds are very competitive in comparison to other brands.
Betfair
Despite beginning life as a betting exchange, Betfair's fixed odds sportsbook has proven to be very popular indeed. Odds are always fair, in fact, Betfair has had major Grand National bragging rights in the past.
In past Grand Nationals, Betfair has officially been 'best price on all runners' which cannot be argued with! With best odds guaranteed also offered, getting on early at Betfair in the Grand National should guarantee a good price.
Grand National Betting Offers 2021
Grand National Tips
There are many elements that should go into choosing your Grand National bets. Checking the history of the race and what it takes to win is one. The form of the intended runners and the strength of their stables is another.
Another key factor we shouldn't ever ignore however is how good your chosen bookmaker is. How strong their betting markets are and the fairness of their odds is crucial. A range of ways to bet is always another positive. With that in mind, here are the advantages of betting with these key firms.
Download our Grand National Betting Guide
Grand National Betting Trends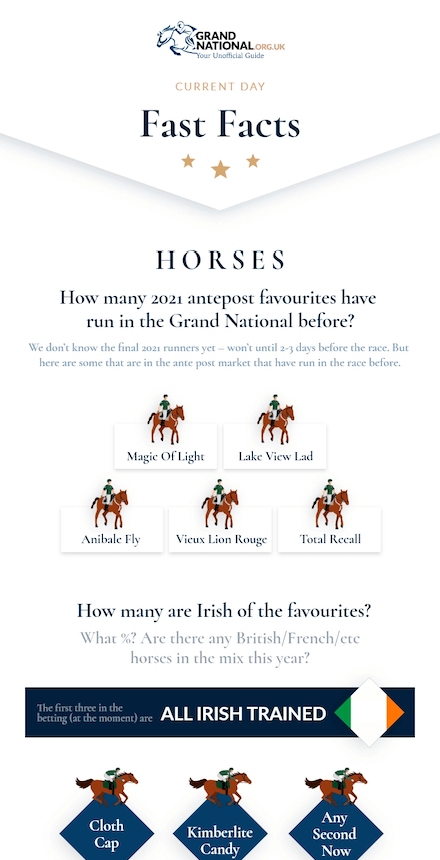 Finally, there is one completely unscientific factor to take into account in Grand National betting. Almost without fail there is a fairy tale behind every Grand National betting winner. When analysing the form of this year's runners it is always worth considering a fitting story behind a win for a particular horse.
The Grand National history section of this site relives the greatest National stories of all time. A further chapter could be written this year if, for example, One for Arthur can become the first back to back winner since Red Rum, or Richard Johnson can end his streak as the most unlucky jockey in National history.
Whatever method you use, you certainly won't be alone in staking your hard-earned cash in Grand National betting. Nearly half the UK adult population have a flutter on the 2021 Grand National betting. A total £300 million, averaging £8 per bet on National day is the only day of the year when women close the gender gap in the betting stakes. One in every three Grand National betting wagers is placed by a woman.
To give you an idea of the scale of our Grand National betting activity, it is estimated that if all of the Grand National betting slips from the Grand National were placed end-to-end, they would stretch all the way from Liverpool to Las Vegas and back. A distance of more than 5,000 miles!
To put it another way, the horses will complete almost two circuits of the two-mile Grand National course. But if the £300 million in stakes was arranged in £20 notes around the Grand National course, they would circle the famous track more than 1,000 times.
Below we track the record of Grand National betting favourites over the last few years (winners are in CAPS):
| Year | Grand National Favourite | Result |
| --- | --- | --- |
| 2021 | Cloth Cap | TBA |
| 2020 | N/A | Cancelled |
| 2019 | TIGER ROLL (4/1) | WON |
| 2018 | Blaklion (8/1) | Brought down at 1st fence |
| 2017 | Blaklion (8/1) | 4th |
| 2016 | The Last Samuri / Many Clouds (8/1) | 2nd / 16th |
| 2015 | Shutthefrontdoor (6/1) | 5th |
| 2014 | Double Seven / Teaforthree (10/1) | 3rd / Unseated Rider |
| 2013 | Seabass (11/2) | 13th |
| 2012 | Seabass / Shakalakaboomboom (8/1) | 3rd / 9th |
| 2011 | The Midnight Club (15/2) | 6th |
| 2010 | DON'T PUSH IT / Big Fella Thanks (10/1) | WON / 4th |
| 2009 | Butler's Cabin (7/1) | 7th |
| 2008 | COMPLY OR DIE / Cloudy Lane (7/1) | WON / 6th |
| 2007 | Point Barrow / Joe's Edge / Monkerhostin (8/1) | Fell at 1st / Pulled-up at 20th / Refused 7th |
| 2006 | Hedgehunter / Clan Royal (5/1) | 2nd / 3rd |
| 2005 | HEDGEHUNTER (7/1) | WON |
| 2004 | Clan Royal / Bindaree / Joss Naylor / Jurancon II (10/1) | 2nd / Unseated at 6th / Pulled-up before 19th / Fell at 4th |
| 2003 | Shotgun Willy (7/1) | Pulled-up after 21st |
| 2002 | Blowing Wind (8/1) | 3rd |
| 2001 | Edmond / Inis Cara / Moral Support (10/1) | Fell at the chair (15th) / Fell at 4th / Refused Canal Turn (8th) |
| 2000 | Dark Stranger (9/1) | Unseated rider at 3rd |
| 1999 | Fiddling The Facts (6/1) | Fell at second Becher's Brook (22nd) |
| 1998 | EARTH SUMMIT (7/1) | WON |
| 1997 | Go Ballisitc (7/1) | Pulled-up at the 29th |
| 1996 | ROUGH QUEST (7/1) | WON |
| 1995 | Master Oats (5/1) | 7th |
| 1994 | Moorcroft Boy (5/1) | 3rd |
| 1993 | Void Race | – |
| 1992 | Docklands Express (15/2) | 4th |
| 1991 | Bonanza Boy (13/2) | 5th |
| 1990 | Brown Windsor (7/1) | 5th |
| 1989 | Dixton House (7/1) | Fell at first Becher's Brook (6th) |
Aintree Grand National Betting Trends (17 Year)
16/17 – Had won over at least 3m previously
15/17 – Ran less than 50 days ago
15/17 – Officially rated 137 or higher
14/17 – Won by a horse aged 9 or older
10/17 – Winners from the top 8 in the betting
10/17 – Finished in the top 3 last time out
9/17 – Won by horses aged in double-figures
8/17 – Experienced the National fences before
7/17 – Carried 11-0 or more in weight
7/17 – Won by an Irish-trained horse
5/17 – Won by a horse aged 10 years-old
5/17 – Won their last race
4/17 – Winning favourites (2 joint)
3/17 – Won by the Gordon Elliott yard
2/17 – Won by the McCain yard
2/17 – Ridden by Davy Russell
Beginner's Grand National Betting Guide
Choices may be based on nothing more scientific than a lucky number, standout name or favourite colour of the jockey silks. It could be a grey or based on the jockey, trainer or name. Party Politics, for example, cost the bookies by winning the race just five days before a general election. Believe it or not, it is possible to apply an element of science to Grand National betting. As the saying goes, there are lies, damn lies and statistics, it is hard to ignore certain of the historical trends.
Until recently, it was common knowledge among punters that horses carrying over 11 stone rarely won. This allowed them to rule out a good chunk of the field. However, this trend has shown signs of being reversed in recent renewals. Not least in 2015 when Many Clouds carried the monster weight of 11st 9lb to victory.
The next thing to bear in mind if you intend to have a bet before the day of the big race is that of the horses entered (see the Grand National entries), only forty can run and so any horse below, say, number fifty in that list ahead of the final declaration stage has very little chance of making the cut and taking part.
The key to having an ante-post bet is to find a horse that is guaranteed to make the line up on the day. With the National, this task even trickier because of the limit on the number of runners. As always, well-fancied horses will drop out right up to the day due to injury, illness, loss of form etc. However, if your selection is below number 40, there is this additional risk to consider. Read our ante-post betting guide to learn how to profit from betting on the Grand National.
What does the handicap mean?
Each horse running in the Grand National is allotted a weight. The intention is to equalising the chance of every runner and in theory all 40 horses should pass the winning post together – however, as we all know this is never going to happen!
However, being a handicap race what this does do is give the chance for horses of all abilities to try and win the Grand National – with the better horses in the race being handicapped with a lot more weight. The better horses carry the most weight.
It's not an exact science and the statistics used to point markedly to the fact that horses with higher weights struggled in the National. But 6 of the last 11 winners have all carried at least 11st. This suggests this stat may be in the process of being turned on its head.
In terms of handicap marks, the course had been modified on safety grounds so the handicap has been compressed. The most famous race of the jumps season has attracted better horses.
Check out our Each-Way betting guide, Simple Win betting guide and Tote Betting guide.
Does the horse's age matter?
Two seven-year-olds ran in the 2011 Grand National, three in 2012, one in 2013, two in 2014 and 2 in 2015, while in 2019 we saw one 7 year-old run. However, no horse of that age (7) has won the race since 1940.
Eleven-year-olds have done okay in recent years – winning 3 of the last 8 running, while 8 year-old have won three of the last five. But with 15 of the last 29 Grand National winners aged 9 or 10 years-old then this age range stand out in recent years.
What is referred to by the going?
The condition of the turf, how wet or dry it is, varies from 'heavy' to 'hard'. But usually, the going for the Grand National is either good or good to soft. Some horses have a preference for a certain type of ground, but the majority handle most types of going.
However, one statistic holds true and that is the softer the ground, the fewer the finishers. Soft or heavy ground saps horses' stamina. It causes more of them to pull up and not complete their round. It is also harder to jump out of, leading to more fallers.
The best recent example of this was the 2001 renewal on heavy ground, when only four horses completed (and two of those had to be remounted).
With the growing concerns over animal welfare, and the improvement in the quality of irrigation, it is unlikely we will see the National run again on a good to firm surface or quicker.
The quicker the ground, the quicker the horses travel, thus increasing the dangers for both horse and jockey. The executive at Aintree will add water to the course if there is insufficient rain in the build up to the race.
The ground was pretty lively in 1990 when Mr Frisk won in a time of 8 mins 47.8 secs. But on last year's good to soft surface, Many Clouds was still able to record a time only 11 seconds slower. Those two horses are the only ones to have broken the 9 minute barrier.
Tiger Roll won in 2018 at a time of 9m 40 secs, while in 2019 he recorded a much faster time (9m 1s)
Lottery's winning time in 1839 was 14 mins 53 secs, whilst the 2001 renewal took just over 11 minutes.
Time comparisons aren't perhaps as helpful as they once were, however, given the recent adjustments to the course and the distance of the contest.
Is there an optimum place at the start?
No, not really. Each jockey has their own preference as to where they like to be in the early part of the race, either towards the front or the rear or somewhere in between. Some riders prefer to stay close to the inner rail, saving ground around the bends, whilst others prefer to take a wider route around the outside where their horses can get a clearer sight of the fences and run less of a risk of being hampered or brought down by fallers.
Having said that, those that go flying off at the start are rarely there at the finish and it also rarely pays to get too far behind early on.
One other point to note is that some of the fences (most notably Becher's Brook) are much steeper on the inside.
Should anyone back the favourite?
Considering the competitive nature of the Grand National we've actually seen 16 of the last 29 Grand National favourites placed (top four), while 6 of the last 29 favourites have won (21%).
Tiger Roll was the last favourite to win the Grand National in 2019 – he retuned just 4/1 and the shortest-priced winner since Poethlyn won the race at 11/4 in 1919.
What happens to loose horses?
There is only so much anyone can do to stop 600kg of a prime thoroughbred. Whilst some horses continue to run with the field, others gallop straight back to the comfort of the stables. Horses that lose their jockey in the early stages can play a further part in the race when running loose.
In 2005, Tony McCoy looked set to break his duck in the world's most famous jumps race until a loose horse ran at right angles in front of his mount, Clan Royal, forcing him out of the contest on the run to Becher's Brook on the second circuit.
In the past, loose horses have sometimes been remounted. For example, as mentioned above, Blowing Wind and Papillon finished third and fourth respectively after being remounted in 2001. However, for welfare reasons jockeys are now forbidden from getting back on board a horse that has fallen.
In 2009 the course was widened so there was enough room for runners to bypass fences if required, including Becher's Brook.
When does a likely winner emerge?
Some horses race up with the pace and stay there as they tend to avoid any dangers of falling horses or unseating jockeys. However, some horses like to be held up in their race – as this is their preferred style of racing.
They might have to avoid any traffic problems but they are saving energy at the back of the field. But with a long run-in after the last Grand National fence then horses that jump the last fence often stay on well to win.
Learn how to Bet on the Grand National Online
Grand National Betting History
Due to the size and competitive nature of the Grand National field, the race is often won by a horse with a double-figure starting price. Yes, in 2019 we saw Tiger Roll win the race as the 4/1 favourite but 23 of the last 29 Grand National winners returned a double-figure price.
Only Grittar (7/1), West Tip (15/2), Rough Quest (7/1), Earth Summit (7/1), Hedgehunter (7/1), Comply Or Die (7/1) and Tiger Roll (4/1) have been returned at less than 10/1 since 1978.
Since 2000, four favourites have won: Hedgehunter in 2005, Comply or Die in 2008, Don't Push It in 2010 and Tiger Roll (2019).
There have also been a number of long-priced shocks in recent renewals, most notably Mon Mome at 100/1 (2009) and Aurora's Encore at 66/1 (2013).
In total 5 winners in the race's history have returned at betting odds of 100/1: Tipperary Tim (1928), Gregalach (1929), Caughoo (1947), Foinavon (1967) and Mon Mome (2009).
Poethlyn (1919) is the shortest-priced winner of the race at 11/4.
Grand National Betting Wacky Wagers
Over the years there have been many bizarre bets on the Grand National – some winners and some losers. Here are some of our favourite times people have gone out on a limb with their Grand National betting:
One of the earliest National gambles was landed in the 19th century. In 1866 owner/trainer Edward Studd had £1,000 at 40/1 about Salamander. His £40,000 winnings would equate to nearly £3 million at today's values.
Manifesto hit the bookies hard on both occasions he won the Grand National, in 1897 and 1899. He was sent off 6/1 favourite for his first win when owned by heavy-gambling Irish solicitor Harry Dyas. He was 5/1 second favourite two years later when scoring for new owner John Bulteel. The 4/1 favourite was his half-sister Gentle Ida, who fell.
A confident Vincent O'Brien told owner Joe 'Mincemeat' Griffin to have a good bet on Early Mist in the 1953 race. Griffin won £100,000 when his horse came in. He also owned the 1954 winner Royal Tan, also trained by O'Brien.
Amateur rider and optimist Peter Walker, from Blackpool, bet £10 at 1000/1 with William Hill in 1993 when he was 54 that one day he would become the oldest man ever to ride in the National. He is still waiting to collect…
Judy Higby from St Albans, Herts, tried to bet that the 1993 Grand National would not be run after she had a premonition. Her bookie said he'd do her a favour by not taking her money because it couldn't happen. The race was cancelled after a false-start fiasco!
Other crazy Grand National bets
Terry Ramsden staked over £100,000 on his own horse, Mr Snugfit, in 1986 and stood to win over £1 million. With three fences left Mr Snugfit, the 13/2 favourite, had most of the 20 runners in front of him but jockey Phil Tuck galvanised him so well that he passed all but three and finished in fourth place to give his owner a small profit from his each-way bets.
Bingo club tycoon, Mike Futter, who owned 2003 Grand National winner Monty's Pass, won nearly £1 million on the race. His biggest bet was £10,000 at 50/1 which earned him £500,000. So when Barry Geraghty crossed the line, Futter landed the biggest gamble in the race's long history.
Headmaster Peter Rogers collected £6,000 in 1983 after Grand National betting the parents of children at his St Michael's Junior School in Kirby that he could complete the Grand National course – without a horse. He did it in 40 minutes – and donated his winnings to school funds.
In 1971, Lord Poulett, owner of The Lamb, had a dream in which his horse won the National, ridden by jockey Tommy Pickernell – so he hired Pickernell. The Lamb started 11/2 second favourite – and duly won!
Papillon's success in 2000 for trainer Ted Walsh and his jockey son Ruby was a popular victory. Tipped by the Racing Post's Pricewise column at 33/1 on the morning of the race, he was sent off at 10/1 by race time.
The whole nation loves to get involved in Grand National betting where 40 runners take on the demanding four-and-a-half mile Aintree course
You might also like…