Last Updated 24 Aug 2023 | By GrandNational.org.uk | Commercial content | 18+ | Play Responsibly | T&C Apply | Wagering
The largest collection of Grand National stats, facts, figures, records and trends about owners, trainers, jockeys and horses making it into the Aintree history books. Apply your new knowledge when you bet on the Grand National. Give yourself the best chance to pick a winner.
If you want to check the Aintree favourites and odds for 2024, you can click on the button below.

Check Runners & Odds 2024
Grand National Stats and Records
According to historical Grand National Stats, the first race was held in 1839, but it started in inauspicious circumstances, going off two hours late after confusion over weighing procedures. The aptly named, and 5-1 favourite, Lottery came home first.
The 1929 National featured the most starters in the race when 66 horses lined up.
The smallest field was in 1883 when just 10 faced the starter.
The fastest ever time is the 8 minutes 47.8 seconds Mr Frisk recorded in taking victory in 1990.
The slowest time is the 14m 53s it took Lottery to win the first National in 1839.
The smallest number of finishers was in 1928 when Tipperary Tim, a 100-1 outsider, was the first of two past the post.
The greatest number of horses to finish was 23 in 1984. Hallo Dandy, ridden by Neale Doughty, was the winner. 17 completed last season.
The 1997 race, won by Lord Gyllene, was the 150th race at Aintree and Sir Peter O'Sullevan's 50th and final commentary for the BBC.
2013 saw the first screening of the race by Channel 4.
The shortest price winner was Poethlyn at 11-4 in 1919.
In 2019, nearly 10 million tuned in to watch the Grand National
ITV Racing took over from C4 to show the Grand National in 2017
In 2019, Tiger Roll became the first horse since Red Rum (1974) to win back to back Grand Nationals.
Aintree – The Grand National Course
The first five Grand National's included one jump that was a stone wall. It was situated where the water jump now stands.
Becher's Brook earned its name when a top jockey, Captain Martin Becher, took shelter in the brook after being unseated. "Water tastes disgusting without the benefits of whisky" he reflected.
The Chair is the tallest fence at 5ft 2ins, and the broadest. The fence got its name as it was once alongside the seat used by the distance judge.
The fences at Aintree are made up of spruce from the Lake District. The cost of the building work is tens of thousands of pounds and takes a month to complete.
As well as horse racing, Aintree has also hosted a European and five British Grand Prix. Stirling Moss won his first Grand Prix in Liverpool in 1955.
According to Grand National stats and figures, the change seemed to work in 2014 as no horse lost his jockey until the Canal Turn, although there were plenty of early casualties last year.
Grand National Stats – Horses
Red Rum is the most successful horse, winning the Grand National three times: 1973, 1974 and 1977.
The oldest winning horse was Peter Simple, aged 15 (1853); the youngest were Alcibiade (1865), Regal (1876), Austerlitz (1877), Empress (1880), Lutteur III (1909), all aged 5.
Abd-El-Kader was the first horse to win back-to-back Nationals, in 1850 and 1851. The Colonel, (1869 & 1870), Reynoldstown (1935 & 1936) and Red Rum (1973 & 1974) have also retained the crown.
Moiffa won in 1904. As one of the strangest Grand National stats, he disappeared a year earlier. On a trip to Liverpool from New Zealand, Moiffa's ship was wrecked. The horse was presumed lost at sea before turning up on an outcrop south of Ireland.
Golden Miller won in 1934 and became the only horse to complete the Cheltenham Gold Cup-Grand National double. Garrison Savannah narrowly failed in 1991.
Manifesto ran in more races than any other horse. Between 1895 and 1904, he ran eight races, winning two and coming third three times. He only failed to finish once.
Two Russian horses, Reljef and Grifel, competed in the 1961 Grand National, but neither finished. Horses from Hungary, the Czech Republic and Norway have also run with similarly disappointing results. Hungarian chaser Buszke was pulled up in 1868. While Czechoslovakian Gyi Lovam (1931), came to grief at Becher's. He was remounted but fell again four fences later. Czech-trained Essex, Fraze and Quirinus carried automatic top-weight but didn't complete. The 2000 renewal saw the first Norwegian-trained runner, Trinitro, fall at the first fence.
Japanese thoroughbred, Fujino-O captured four consecutive renewals of the prestigious Nakayama Daishogai. He was sent to Britain to be trained for Aintree by Fulke Walwyn in 1966. He was given the automatic top-weight but failed to get competitive.
Tiger Roll entered the Grand National Hall of Fame in 2019. He became the first horse since 1974 to win the race twice in a row.
International Horses and Mares
Five winners were bred in France — Alcibiade (1865), Reugny (1874), Lutteur III (1909), Mon Mome (2009) and Neptune Collonges (2012). Mely Moss, runner-up to Papillon in the 2000 Grand National. The 1996 and 2015 runners-up Encore Un Peu and Saint Are, were also French bred.
In 1998, Earth Summit, owned by a six-strong partnership, became the first winner of the Grand National who was also successful in both the Scottish and Welsh Grand Nationals.
Only three greys have won the Grand National – The Lamb (1868 and 1871), Nicolaus Silver (1961) and Neptune Collonges (2012). Suny Bay finished second to Lord Gyllene in 1997 and filled the same spot behind Earth Summit in 1998. King Johns Castle was second in 2008.
Thirteen mares have won the Grand National, but the most recent was Nickel Coin back in 1951. Since then, the mares Gentle Moya (2nd 1956), Tiberetta (3rd 1957 and 2nd 1958), Miss Hunter (3rd 1970), Eyecatcher (3rd 1976 and 1977), Auntie Dot (3rd 1991), Ebony Jane (4th 1994) and Dubacilla (4th 1995) have all finished in the first four.
The complete list of winning mares is: Charity (1841), Miss Mowbray (1852), Anatis (1860), Jealousy (1861), Emblem (1863), Emblematic (1864), Casse Tete (1872), Empress (1880), Zoedone (1883), Frigate (1889), Shannon Lass (1902), Sheila's Cottage (1948) and Nickel Coin (1951).
In 1923, Sergeant Murphy became the first US bred horse to win. He is also the joint-second oldest horse to win, at 13, alongside Why Not (1884). The US bred Battleship, son of the famous Man o' War, became the first (and so far only) horse to have won both the Grand National (in 1938) and the American Grand National (which he won four years earlier).
1991 was the seventh and final year that the Grand National was sponsored by Seagram. Aptly, the race was won by a horse named Seagram, bred in New Zealand. 1997 saw another New Zealand-bred winner in Lord Gyllene.
Grand National Stats – Jockeys
George Stevens is the most successful jockey in the history of the National with five wins. His final triumph came in 1870. Stevens died three months after finishing sixth in the 1871 race.
Together with the Lincoln Handicap run on the Flat at Doncaster, the Grand National forms leg two of the 'Spring Double'. The only jockey to have won both contests is Dave Dick, who captured the Lincoln in 1941 and the Grand National in 1956.
Bruce Hobbs was the youngest jockey to have won the race. The 17-year-old triumphed aboard Battleship in 1938.
The late Dick Saunders is the oldest winner of the Grand National, partnering Grittar to victory in 1982. Saunders was 48 and the first member of the Jockey Club to partner a Grand National winner.
Brian Fletcher (1968 Red Alligator, 1973 and 1974 Red Rum) shares a 20th-century record with the legendary Jack Anthony (1911 Glenside, 1915 Ally Sloper, 1920 Troytown), both jockeys having ridden three National winners.
Plenty of riders have won the Grand National on their first attempt. The most recent are Ryan Mania (2013 Auroras Encore), Liam Treadwell (2009 Mon Mome), Niall 'Slippers' Madden (2006 Numbersixvalverde), and Ruby Walsh (2000 Papillon).
Ruby Walsh, Leighton Aspell and Davy Russell all hold the best record for current jockeys, having won the Grand National twice each in recent times.
International Jockeys
Jockey William Watkinson recorded the first success for Australia in 1926. He was killed at Bogside, Scotland, less than three weeks after winning the Grand National.
Prince Karl Kinsky, an Austro-Hungarian nobleman, was the first jockey from outside Britain and Ireland to ride, winning on board his own mare Zoedone in 1883.
Tsuyoshi Tanaka, became the first Japanese jockey to ride in the Grand National in 1995, although he fell at the first fence on The Committee.
American amateur Tim Durant was 68 when 15th on Highlandie in 1968 (although he remounted at Becher's second time).
Peter Scudamore technically lined up for thirteen Grand Nationals without winning but the last of those was the void race of 1993, so he officially competed in twelve Nationals.
Many other well-known jockeys have failed to win the Grand National. These include champion jockeys such as Terry Biddlecombe, John Francome, Josh Gifford, Stan Mellor, Jonjo O'Neill (who never completed) and Fred Rimell.
Three jockeys who led over the last fence in the National but lost on the run-in ended up as television commentators: Lord Oaksey (on Carrickbeg in 1963), Norman Williamson (on Mely Moss in 2000), and Richard Pitman (on Crisp in 1973). Pitman's son Mark also led over the last fence, only to be pipped at the post when riding Garrison Savannah in 1991.
As a least inspiring Grand National stats, in 2012, Richard Johnson beat the record for the most rides in the National without a win. He has now ridden in the race 19 times without bettering the runner-up spot in 2002 on What's Up Boys. There are 12 other riders who have never won (or have not as yet won) the National, despite having had more than 12 rides in the race.
Aintree Festival Tips & Predictions
Unluckiest jockeys in Grand National history
| Jockey | Years Competing | Best Result | Total Attempts |
| --- | --- | --- | --- |
| Richard Johnson | 1997-2019 | 2nd twice | 21 |
| David Casey | 1997-2015 | 3rd once | 15 |
| Jeff King | 1964-1980 | 3rd once | 15 |
| Robert Thornton | 1997-2011 | Never top 3 | 14 |
| Bill Parvin | 1926-1939 | 2nd once | 14 |
| Tom Scudamore | 2001-2015 | Never top 3 | 14 |
| Graham Bradley | 1983-1999 | 2nd once | 14 |
| Chris Grant | 1980-1994 | 2nd three times | 13 |
| Stan Mellor | 1956-1971 | 2nd once | 13 |
| David Nicholson | 1956-1971 | Never top 3 | 13 |
| George Waddington | 1861-1882 | 2nd once | 13 |
| Walter White | 1854-1869 | 2nd once | 13 |
| Andrew Thornton | 1996-2013 | Never top 3 | 13 |
Grand National Stats – Female Jockeys
Charlotte Brew became the first in 1977. Female jockeys have participated in 19 Grand Nationals. Brew attracted media attention when partnering her horse Barony Fort. Grand National stats and figures show that she was a guest on the BBC Sports Personality of the Year show and the Daily Mirror. She was also unseated in the 1982 race.
Geraldine Rees became the first to complete the course (albeit in last place) in 1982. She fell at the first a year later and went on to train for 12 years in Lancashire, before retiring in 2010.
In 2021, Rachel Blackmore achieved the best placing by a woman to date – 1st place on Minella Times.
National winning trainer, Venetia Williams, also rode in the race, falling at Becher's first time when riding 200-1 chance Marcolo in 1988.
Nina Carberry, now assistant to Noel Meade, is the most experienced female rider, finishing on four of her five starts.
Gee Armytage had to pull up her mount, Gee-A, in 1988. A dual Cheltenham Festival-winning rider, she is the sister of Marcus Armytage – rider of the 1990 winner Mr Frisk – and became personal assistant to multiple champion jump jockey A P McCoy.
Rosemary Henderson finished fifth when aged 51 on her own 100/1 shot Fiddlers Pike in 1994. She subsequently wrote a book, 'Road To The National', about her exploits.
There was huge media interest in Carrie Ford when she finished fifth in 2005 on Forest Gunner. The horse was trained by her husband Richard. Ford, then 33, had given birth to her daughter 10 weeks earlier.
Female Jockeys through Grand National History
| Year | Jockey | Horse | SP | Result |
| --- | --- | --- | --- | --- |
| 1977 | Charlotte Brew | Barony Fort | 200/1 | Refused, 26th fence |
| 1979 | Jenny Hembrow | Sandwilan | 100/1 | Fell, 1st fence |
| 1980 | Jenny Hembrow | Sandwilan | 100/1 | Pulled up, 19th fence |
| 1981 | Linda Sheedy | Deiopea | 100/1 | Refused, 19th fence |
| 1982 | Geraldine Rees | Cheers | 66/1 | Completed, 8th & last |
| 1982 | Charlotte Brew | Martinstown | 100/1 | Unseated, 3rd fence |
| 1983 | Geraldine Rees | Midday Welcome | 500/1 | Fell, 1st fence |
| 1983 | Joy Carrier | King Spruce | 28/1 | Unseated, 6th fence |
| 1984 | Valerie Alder | Bush Guide | 33/1 | Fell, 8th fence |
| 1987 | Jacqui Oliver | Eamons Owen | 200/1 | Unseated, 15th fence |
| 1988 | Gee Armytage | Gee-A | 33/1 | Pulled up, 26th fence |
| 1988 | Venetia Williams | Marcolo | 200/1 | Fell, 6th fence |
| 1988 | Penny Ffitch-Heyes | Hettinger | 100/1 | Fell, 1st fence |
| 1989 | Tarnya Davis | Numerate | 100/1 | Pulled up, 21st fence |
| 1994 | Rosemary Henderson | Fiddlers Pike | 100/1 | Completed, 5th place |
| 2005 | Carrie Ford | Forest Gunner | 8/1 | Completed, 5th place |
| 2006 | Nina Carberry | Forest Gunner | 33/1 | Completed, 9th & last |
| 2010 | Nina Carberry | Character Building | 16/1 | Completed, 7th place |
| 2011 | Nina Carberry | Character Building | 25/1 | Completed, 15th place |
| 2012 | Nina Carberry | Organisedconfusion | 20/1 | Unseated, 8th fence |
| 2012 | Katie Walsh | Seabass | 8/1 | Completed, 3rd place |
| 2013 | Katie Walsh | Seabass | 11/2 | Completed, 13th place |
| 2014 | Katie Walsh | Vesper Bell | 40/1 | Completed, 13th place |
| 2015 | Nina Carberry | First Lieutenant | 14/1 | Completed, 16th place |
| 2016 | Nina Carberry | Sir Des Champs | 20/1 | Fell, 15th fence |
| 2016 | Katie Walsh | Ballycasey | 50/1 | Unseated, 29th fence |
| 2017 | Katie Walsh | Wonderful Charm | 28/1 | Completed, 19th place |
| 2018 | Bryony Frost | Milansbar | 25/1 | Completed, 5th place |
| 2018 | Katie Walsh | Baie Des Illes | 16/1 | Completed, 16th place |
| 2018 | Rachael Blackmore | Alpha Des Obeaux | 33/1 | Fell, 15th fence |
| 2019 | Rachael Blackmore | Valseur Lido | 66/1 | Completed, 10th place |
| 2019 | Lizzie Kelly | Tea For Two | 25/1 | Pulled up, 29th fence |
| 2021 | Rachael Blackmore | Minella Times | 11/1 | Completed, 1st place |
| 2021 | Tabitha Worsley | Sub Lieutenant | 50/1 | Completed, 14th place |
| 2021 | Bryony Frost | Yala Enki | 40/1 | Unseated, 20th fence |
| 2022 | Rachael Blackmore | Minella Times | 9/1 | Fell, 9th fence |
Grand National Stats – Trainers
Vincent O'Brien trained three successive winners – all different horses – in the 1950s. The role of honour read Early Mist (1953), Royal Tan (1954) and Quare Times (1955).
The last permit-holder to train the Grand National winner was the late Frank Gilman. The Leicestershire-based farmer was responsible for Grittar in 1982.
Jenny Pitman, Venetia Williams and Sue Smith are the only women to have trained a Grand National winner. Pitman captured the race for the first time with Corbiere in 1983. She succeeded for a second time with Royal Athlete in 1995 and also trained the winner of the National that never was – Esha Ness. Venetia Williams was successful with Mon Mome in 2009, whilst Sue Smith-trained the 2013 winner, Auroras Encore.
According to Grand National stats, Fred Rimell and George Dockeray are the most successful National trainers with four winning horses apiece. Rimell trained ESB (1956), Nicolaus Silver (1961), Gay Trip (1970) and Rag Trade (1976). Dockeray trained Lottery (1839), Jerry (1840), Gaylad (1842) and Miss Mowbray (1852). Ginger McCain also had four winners, but with two horses, Red Rum (1973, 74 and 77) and Amberleigh House (2004). His son, Donald, joined the roll of honour by training the 2011 winner, Ballabriggs.
Fred Winter has a unique place in jump racing history. He won the Cheltenham Gold Cup, Champion Hurdle and Grand National as a trainer and jockey. Winter trained two Grand National winners – Jay Trump (1965) and Anglo (1966). He partnered two victors, Sundew (1957) and Kilmore (1962) during a remarkable career.
Gordon Elliott has been the winning trainer on three occasions, in 2007, 2018 and 2019.


International Trainers

Two French-trained horses have won the Grand National, Huntsman (1862) and Cortolvin (1867). Both were trained by Yorkshireman Harry Lamplugh, who also rode Huntsman to victory. Lutteur III, noted as a British-trained Grand National victor, held plenty of allegiance to France. His jockey Georges Parfremont and owner James Hennessy were Frenchmen. The horse only arrived at the Epsom yard of trainer Harry Escott that season to get accustomed to English racing.
The only Welsh-trained horse to win was Kirkland in 1905. Although, Evan Williams has remarkably had a horse placed in five consecutive renewals.
Rubstic, trained by John Leadbetter in Roxburghshire, became the first Scottish-trained winner, with victory in 1979.
Irish-trained horses have enjoyed by far the most success of international participants. There were 16 winners since 1900, including six since 1999. Also, a number of Irish-bred horses (including Red Rum, Golden Miller and Many Clouds) have won under English trainers.
Since 1900 five successful jockeys went on to train Grand National winners as well. These are Algy Anthony, Tommy Carberry, Aubrey Hastings, Fulke Walwyn and Fred Winter.
Martin Pipe broke many records during his training career. He had more runners in a Grand National than any other trainer. He saddled 10 of the 40-strong field in 2001, with the remounted Blowing Wind doing best in third place.
Grand National Stats – Horse Owners
The Prince of Wales (King Edward VII), owned 1900 Grand National winner, Ambush II.
A number of other famous names have owned a National winner. These include Freddie Starr (Miinnehoma, 1994), Anne, Duchess of Westminster, (Last Suspect, 1985), Teasie Weasie Raymond (Rag Trade 1976), Gregory Peck (Different Class 1968) and Fred Pontin (Specify, 1971).
In 1950 Queen Elizabeth, the Queen Mother had her first runner in the race in Monaveen. Six years later she would witness her Devon Loch collapse just yards from victory.
Grand National stats show Trevor Hemmings, enjoyed his hat-trick win in the race. He owns Hedgehunter (2005) Ballabriggs (2011) and Many Clouds.
Hemmings is now one of the leading owners are alongside James Machell and Noel Le Mare.
The first success for an American came in 1923. Sergeant Murphy had been bought by John Sanford, and given to his son, who was at Cambridge University.
Jock Hay Whitney was one of the unluckiest owners in the history of Grand National stats. Whitney was responsible for 14 runners between 1929 and 1951. Sir Lindsay finished third in 1930 and Thomond II occupied the same position in 1934 and 1935. The multimillionaire had the opportunity to buy future dual Grand National winner Reynoldstown.
American sewing-machine heir F Ambrose Clark sold the seven-year-old Kellsboro' Jack to his wife Florence for £1. Trainer Ivor Anthony thought it would bring luck. Kellsboro' Jack, who started at 25/1, won by three lengths.
Jim Joel was 92 when Maori Venturi won the 1987 Grand National. Noel Le Mare was 89 when Red Rum gained his record-breaking third Grand National in 1977.
Bryan Burrough, a 23-year-old stockbroker owned Corbiere, who was trained by Jenny Pitman, to win in 1983. Brian Walsh was 26 when Silver Birch took the 2007 renewal.
Gigginstown Stud House, who has Ryanair boss Michael O'Leary at the helm, have been responsible for three of the last four winners – Rule the World (2016) and Tiger Roll (2018 & 2019).
If you are all caught up on past Grand National key stats, you can check the list with names for the upcoming Grand National.
See the current Grand National favourites and riders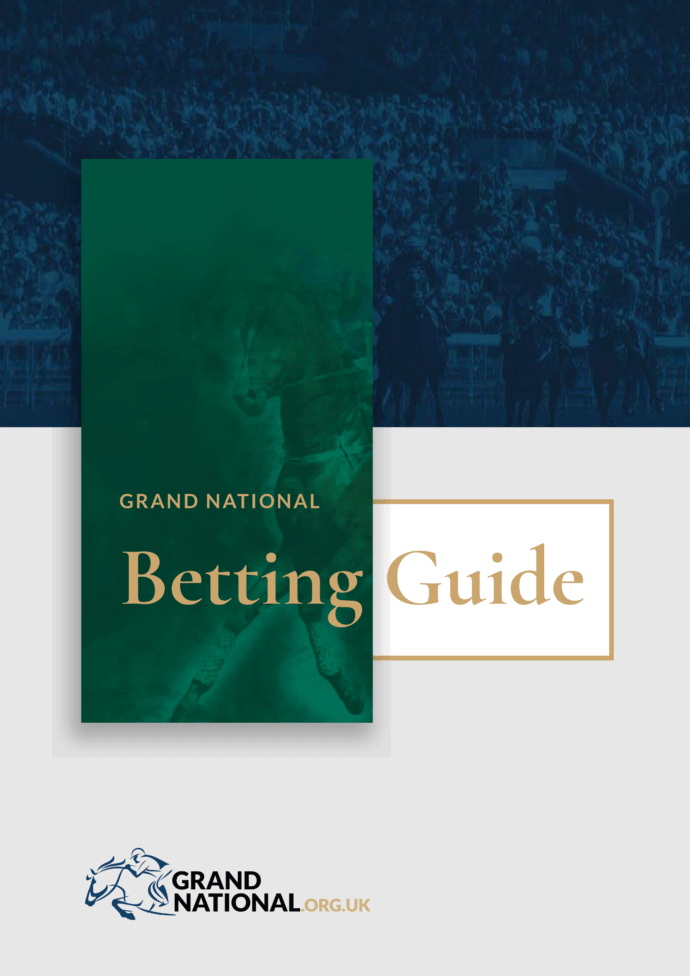 Download our Grand National Betting Guide
You might also like…