Last Updated 6 hours ago | By GrandNational.org.uk | Commercial content | 18+ | Play Responsibly | T&C Apply | Wagering
Many people bet on the Grand National based on horse names or jockey colours, but it's also useful to have an idea of what the odds represent, and to have the differences between decimal and fractional odds explained. In brief, betting odds give you an idea of the probability of an event happening, whether that event is a team winning a match, a horse winning the Grand National or even a political party winning an election.
18+. Play Safe. From 00:01 on 18.10.2022. £30 bonus. New customers only. Minimum £10 stake on odds of 1/2 (1.5) or greater on sportsbook (excluding Virtual markets). Further terms apply. #ad
Full T&Cs
Fractional betting odds explained
Fractional odds are the odds you'll traditionally see quoted by bookmakers at racecourses and in betting shops. Fractional odds show the amount of money you'll win, compared to the amount you're betting. The number on the left is how much you'll win, with the number on the right showing how much you'll stake.
Fractional odds explained – an example
To explain fractional odds with an example, imagine the fractional odds you're seeing on a Grand National horse are 10/1. This shows you'll win £10 for every £1 you stake. So, if you stake £5, and your horse wins, you would expect to receive 10 times your stake – £50 in this example – plus you'd also receive your £5 stake back, to leave you with £55 in total.
Decimal betting odds explained
Decimal odds are becoming increasingly popular, particularly across continental Europe, and you'll be able to view odds in a decimal format at all online bookmakers. Most people find them easier to understand than fractional odds, as the simple calculation you have to remember is 'stake x odds = payout'.
Decimal odds explained – an example
To explain decimal odds with an example, imagine the decimal odds you're seeing on the same Grand National horse as before are 11. So, if your stake £5, simply plug the numbers into the stake x odds formula. This gives you £5 x 11 = £55 payout, which is of course the same as in the fractional odds example above.
Decimal and fractional odds converter
The table below converts the percentage likelihood of an event happening into the sorts of fractional and decimal odds you'll often see at both on course and online bookmakers.
| Fractional odds | Decimal odds | Percentage probability |
| --- | --- | --- |
| 1/2 | 1.5 | 67% |
| Evens | 2 | 50% |
| 6/4 | 2.5 | 40% |
| 2/1 | 3 | 33% |
| 3/1 | 4 | 25% |
| 4/1 | 5 | 20% |
| 5/1 | 6 | 17% |
| 6/1 | 7 | 14% |
| 8/1 | 9 | 11% |
| 10/1 | 11 | 9% |
| 12/1 | 13 | 8% |
| 14/1 | 15 | 7% |
| 16/1 | 17 | 6% |
| 20/1 | 21 | 5% |
| 25/1 | 26 | 4% |
| 33/1 | 34 | 3% |
| 50/1 | 51 | 2% |
| 100/1 | 101 | 1% |
Find more GRAND NATIONAL Betting Offers
How are the odds for each Grand National horse decided?
There are a few factors that decide the prices on each Grand National horse. Before the final runners are declared (2 days before the race) the bookmakers will have what's called an 'ante-post' market which contains all the horses that the bookmakers think will run in the Grand National.
Due to safety reasons, the maximum number of runners in the Grand National is 40. Each bookmaker will be competing for business by offering competitive odds to attract customers. It's no different than going shopping. Why pay £50 for a pair of trainers when you can get the same pair for £40 further down the high street!
However, that doesn't mean bookmakers can just pluck odds out of the air. Due to a horse being well-supported (a lot of money placed on it), their hands might be forced. They have to offer lower odds in their ante-post Grand National market than a rival. In simple terms, the more money placed on an individual horse, the shorter their odds will become, while if there is no interest in a certain horse the odds for that runner may well increase.
Each betting market – whether it's a horse racing one or not – has to work with what's called an 'over-round' percentage. This is how the bookmakers operate on each event – more on that below.
Betting at the Aintree racecourse
The traditional 'rails bookmakers' are the ones you see at the track. Generally, they're lined up in rows in front of the grandstand at each track. Sometimes referred to as the 'betting jungle' this can be a daunting way to bet for novice racegoers. Around a big meeting like the Grand National, this can be a busy, noisy and confusing place to bet.
Odds can change quickly as each bookmaker competes for business. They also alter their position on each race and horse. If a flood of money comes in for a particular horse then they have to shorten the odds. If you are prepared with the number of your horse and your stake, try betting with the rails bookmakers. They are 'old school' horse racing people and it's all part of the experience.
Ante-Post Betting
This is when bookmakers offer a market for a future event – like the Grand National. This means that all-year-round punters have the opportunity to place bets on the big horses races through the year. Horses might improve, or impress in a certain trial race. Which will encourage people to want to back them in a future race. This is still a gamble though as not all horses that are in ante-post markets actually run. Unless your bookmaker has a money-back offer 'non-runner, no bet' then you would lose your money here. The conundrum for punters is always to be tempted with bigger ante-post odds. Bookmakers know that if a horse doesn't run, they will win on that bet before the race has even run! For the best Ante-post betting odds and tips, see our Grand National ante-post outlook for 2023.
Understanding the over-round
Every betting market for a bookmaker has to have what's called an 'over-round' percentage. In simple terms, this is how the bookies make their money. If the market percentage is 100%, based on the odds on all the runners, the bookmaker should break-even on that event. Anything under 100% means you could back EVERY horse in that race and make a small profit. With there being more and more bookmakers around, there's a lot more competition. Finding races that are under 100% is not as hard as they used to be – generally smaller fields.
In the Grand National with 40+ runners, the over-round percentage is always more like 125-150%
Anything over 100% and this is the potential profit that bookmaker can make on that race. They need to make money, but also keep their prices competitive.
If the over-round is 120%, the bookmaker would expect to pay out £100 for every £120 he takes in on bets – this is how they make money.
15 minutes before the Grand National all bookmakers will have the same odds
In the build-up to the Grand National, you can shop around with different bookmakers offering different offers and odds. Why take 10/1 if you can get 12/1 on the same horse with a different bookmaker? If you are placing £10, that would be a difference of £20 with winnings of £120 (12/1) instead of £100 (10/1).
When the race gets to around 10-15 mins before the off time, the betting market will go into what's called the 'LIVE SHOW'. This means the horses will have the same prices across all the bookmakers. Not every horse will be 10/1. But what it means is that you'll no longer be able to shop around for the best odds. If a horse is 10/1 on the live show, it will be 10/1 with all the bookmakers in the country!
If that horse then gets backed on the track, it might shorten to 8/1. But that price will be universal across all bookmakers and in all high street bookmakers in the UK.
This way each horse will have it's own SP (starting price). Then when you see the horse racing results page in your papers (or online) after the race, they will all have the same odds across different publications.
If you've managed to take 12/1 earlier in the day, or a week before, the bookmaker will have to honour that price.
Tip – Look out for bookmakers offering 'Best Odds Guaranteed'. This is a great safety net. If you take a price and it drifts to a bigger one, that bookmaker will still pay you out at the bigger price. Take 8/1, and if the horse wins at 10/1, you'll be paid out at 10/1.
Tips and hints before placing your Grand National bets
A lot can happen in the build-up to the Grand National. But the betting market really comes to life in the morning of the race, and in the hour/minutes before the race.
Things like the weather can play a huge part. Certain horses might not like soft ground. So, even though it might have been well-fancied in the build-up, if the Liverpool track is covered in rain on the day of the Grand National then all of a sudden this is a huge factor against that horse. This may result in their odds drifting, while the opposite to this might be a horse that likes soft ground and their odds getting shorter as punters latch onto this.
An example of this would be the 1998 Grand National when the Nigel Twiston-Davies runner Earth Summit was backed into 7/1 favourite after being on offer at 20/1+ in the morning after a deluge of rain. It was no secret the horse loved the soft ground and, whereas that also hindered a lot of the others, punters rushed to back him which resulted in his odds to win the Grand National tumbling from 20/1+ to 7/1. The backers were right after he won the race and the bookies were still paying out the next day!
The 2017 Grand National winner, One For Arthur was pretty steady through the day and morning at around 20/1 to 12/1 and eventually won at 14/1. Blaklion, who was well-fancied for the 2017 and 2018 Grand Nationals, was the one punters latched onto after backing him into 8/1 favourite. He didn't win in 2017, but having finished fourth the bookmakers would still have had to pay out on the each-way part of any bets.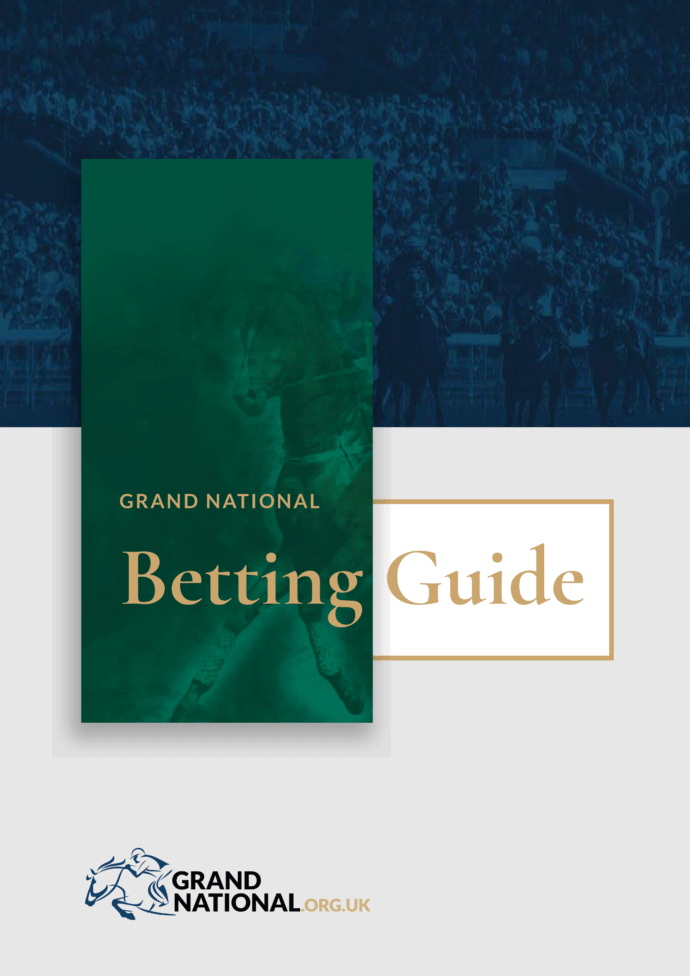 Download our Grand National Betting Guide
Other key factors to look for with regards to National odds potentially getting shorter are key trainers or jockeys. Previous winning stables or jockeys are always of interest, while the main jockeys like Ruby Walsh and Barry Geraghty will always have their supporters no matter who they are riding.
Horses that have run well in the race before are also worth looking for in the betting. Tiger Roll was the last horse to win back-to-back Grand Nationals in 2018 and 2019, but there are also other examples of horses that have run well in the race before (placed) that have done so again. Saint Are was 2nd in 2015 and 3rd in 2017, while Any Second Now was 3rd in 2021, 2nd in 2022 and will line up again this year.
We've enhanced our UK Sportsbook Welcome Offer. Get 50% Back as a Free Bet up to £35 (normally £25) plus 10 Free Spins! A minimum of 3 bets at odds of evens (2.00) or greater is required to qualify for the max free bet, which is based on 50% back of first day losses. Even if your account is up, a single £10 Bet at the minimum odds, secures a £5 Free Bet & 10 Free Spins. T&Cs apply | 18+ New UK Customers Only | BeGambleAware.org
Full T&Cs
Useful Grand National betting links and 'how to' guides
Now you have a better idea of what odds look like and how they can change, you can bet on the Grand National with added confidence. Head to our Grand National runners page, which includes the latest betting ahead of this year's Aintree showpiece. Once you've decided on your Grand National bets, the easiest way to place them is from the comfort of your own home, making the most of the huge amount of generous offers and free bets by betting online. Whichever option you choose, we've got all your Grand National related needs catered for at grandnational.org.uk.
You might also like…