Last Updated 4 hours ago | By GrandNational.org.uk | Commercial content | 18+ | Play Responsibly | T&C Apply | Wagering
Most people will place their 2024 Grand National bets online, but there are also a huge number of Grand National bets at the track, with 170,000 people expected to attend the Aintree racecourse across the three days. This means plenty of business for on-course bookmakers as they try and tempt racegoers keen to bet on horses at the track.
For the best bets online, see our Grand National betting offers 2024, or read on for where and how to place your Grand National bets at the track with on-course bookmakers.
Place 5x£10 Sportsbook bets on any Horse racing market at minimum odds of 2.0 (Evs), and get money back as a Free Bet if it loses. Max refund per qualifying bet is £10 (up to £50 in total). Only deposits made via Cards will be eligible for the promotion (Apple Pay excluded). T&Cs apply
Full T&Cs
Find More GRAND NATIONAL Betting Offers
How to bet at a racecourse – A step-by-step guide
If you're still wondering exactly how to place your Grand National bets at the track, read on for our step-by-step guide.
Find your bearings – Once you're at the racecourse, you'll need to find out where the bookmakers are located. In most cases they'll be clearly marked and found in front of the stands and alongside the racecourse.
Pick a horse – Exactly how you go about choosing a horse to back is up to you. Experienced bettors can spend hours studying the form, but you might come to the same final decision based on jockey colours or the name of the horse. Keep a note of the horse number as it'll come in handy later.
Decide your stake – Have a set amount you're prepared to lose across the day, and divide it across each race you plan to bet on.
Decide your type of bet – The various types of bet range from simply backing a horse to win or finish in the top few places, through to predicting the top two or three horses in the correct order. If you're just starting out, it's best to keep things simple.
Find the best odds – The betting odds will vary across the different on course bookmakers, so scan across for the one offering the best odds and join the queue.
Place your bet – Let the on course bookmaker know (a) the amount you're betting, (b) the name or number of your horse and the (c) type of bet you'd like to place. For example, '£5 on horse 4 to win, please'.
Check your bet receipt – After handing over your stake, you'll be given a receipt confirming your bet and the amount you'd win. Check that it's correct before the race is run.
Collect your winnings – If your bet wins, simply return to the same on course bookmaker after the race, present them with your bet receipt and you'll be given the money you've won in return.
The user must enter Bonus Code 'MB20' during registration Minimum Odds of 1.8 for first bet to qualify. Losses will be refunded on first bet only, as a free bet - up to £20. Users cannot back and lay the same selection on the first bet. Qualifying bets open to Exchange, Matchbook Zero & Multiples Only open to users who deposit via debit card. New Customers Only. 18+. Be Gamble Aware.
Full T&Cs
The betting jungle – where to place Grand National bets
The betting jungle is where the on-course old fashioned bookies strut their stuff. This can be a daunting prospect for a novice racegoer looking for how to bet on horses at the track, so it's best to go armed with a few key tips.
The betting jungle is generally found in front of the grandstand and by the finishing line. For a meeting like the Grand National, you can expect in the region of 50-100 on-course 'rails' bookmakers. This can be an intimidating image, but it needn't be, and it also provides punters with the chance to hunt down value Grand National odds. Shop around – they all want your custom so there's a good chance one will be offering a slightly bigger price on certain horses.
If you can't make it to Aintree Racecourse on the day, we recommend placing your bets online with the UK bookmakers you'll find at the Grand National:
Can I take a price with on-course bookmakers?
Unlike betting online or in a shop, you have no option but to take a price with on-course bookmakers. This price will be the one on offer at the time you place the bet. The advice here if you think a price will get bigger is to wait and leave placing your bet right till the last minute with the on-course bookmakers.
The main reason behind this is that the on-course bookmakers have their own books and liabilities so they need to know exactly where they stand on each race and with each horse. They do this by locking in the price on horses – this way they know their positions and are not liable for a big unexpected pay-out should a horse drift out in the betting and win.
Most on-course bookies these days will have a print-out ticket of your bet. This will have the race time, horse name, your stake, potential winnings and most importantly the bookie's name all on. Keep this safe, because if you win, you'll need to remember the name of the bookie. It's the only way you'll be able to find him after the race to collect your winnings.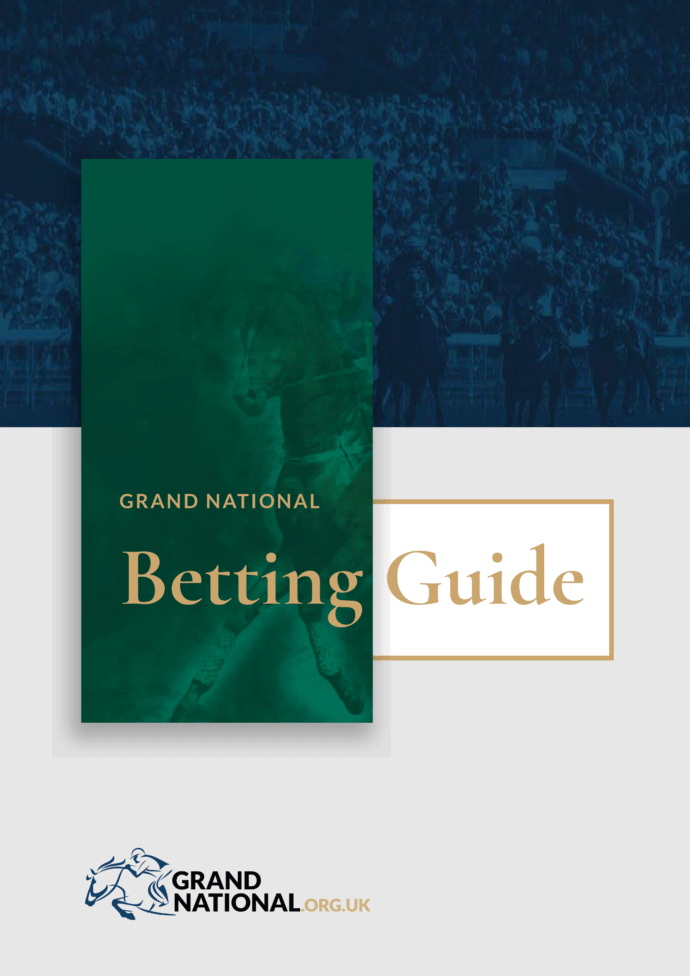 Download our Grand National Betting Guide
If I win my Grand National bets, what happens next?
Great – you've just hit the bookies hard and backed the winner of the Grand National. Now check the name on your betting slip and go find the bookie you placed your bet with. Simply queue up, hand over your ticket and wait for your cash to be counted!
Can I bet on my phone at the racecourse?
When you're wondering how to bet at a racecourse, one option you consider may be to place Grand National bets on your phone at the track, using your online betting accounts. But, be warned, not every site will have access once you're at the track. Unless you're betting through a registered betting partner of Aintree racecourse, there's a chance you won't be able to access your account. The easiest solution to either bet online beforehand, or to place your Grand National bets at the track with on-course bookmakers once you're there. You can either get all your bets done early and sit back and take in the atmosphere, or bet as you go before each race.
Can I bet on future races with on course bookies?
Yes, some will offer this service, but to be honest, it's rare. Most on-course bookies will only be interested in the next race. They've generally only got one board and that will price-up the horses and odds for the next race. If you want to bet on all the days races at once, an on-course bookmaker shop or the tote is your best option.
Top tips when betting with on course bookies
Shop around for value – With there being so many bookmakers at the Grand National, you've got an advantage. Just like going shopping you can eye out the best deals and the best price. Why take 10/1 on a horse when the bookie next door is offering 14/1?!
Be prepared with your horse name, stake and bet type – Yes, the betting jungle can be a busy place. Once it's your turn to place your bet, you need to know exactly what horse you want to bet on (name or number), the bet type (generally win or each-way) and then your stake. Check out our Grand National bet type guide for more guidance.
Just remember 'HBS'. Horse, Bet, Stake…
Away from the on course 'rails' bookmakers, you will also have the option to place Grand National Bets at the track with the Tote. While most courses these days also have your normal betting shops dotted around – you'll normally find these inside the grandstands.
Learn the betting language – You can check out our Grand National Betting guides for more info.
Other useful pages
Hopefully you now know how to place a bet at the racecourse, but at grandnational.org.uk we've got your other needs catered for too. Check out our bet calculator page to find out exactly how much you'll win from your bets, or learn how to bet online, for a stress-free experience when you're betting from the comfort of your own home.
You might also like…