Last Updated 26 Apr 2023 | By GrandNational.org.uk | Commercial content | 18+ | Play Responsibly | T&C Apply | Wagering
When you're betting online, or especially at the track, knowing your Grand National betting terms is a must. Grand National betting is a hugely competitive arena so make sure you're already ahead.
Grand National Betting Terms
A huge tip that will help you on the day is to get familiar with some Grand National betting terms that you might hear at Aintree 2024.
Abandoned: A race or meeting can be abandoned for a host of reasons, most commonly due to the track or weather conditions being unsuitable for racing. The Grand National was abandoned in 1993 after a false start went unnoticed by a number of jockeys who went on to complete the course. In the rare of an abandoned Grand National, you would get your stakes refunded.
Age: If you hear the age mentioned during the Grand National, it will invariably be in relation to the age of the horse, which can be found on racecards. Historically, it has been very rare to see horses under the age of eight win the famous race, although the seven year-old Noble Yeats bucked the trend in 2022.
Accumulator: A bet that involves two or more selections in different races. Winnings from one are placed on the next and accumulated up – hence the name!
Allowance: This is the weight concession the horse is given to compensate for its jockey's inexperience – these are jockeys that are just starting out, so to make it fairer against the seasoned pros they are allowed to claim a certain weight – the more winners they ride the less they can claim, until they become full-time pros and claim nothing!
Bar: This is a betting term that indicated horses that are not already listed in the betting market for a race are at the bar price or longer odds. You might hear this when a commentator is reading out the odds on the horses – Andy's Lad 2/1, Jane's Girl 3/1, Bob's Boy 5/1 then it's 6/1 bar (meaning all the rest of the horses are 6/1 or bigger).
Betting ring: If you're looking to place a bet at a racecourse, you should head to the betting ring, as this is where the on-course bookmakers will be found.
Min deposit requirement. Free Bets are paid as Bet Credits and are available for use upon settlement of bets to value of qualifying deposit. Min odds, bet and payment method exclusions apply. Returns exclude Bet Credits stake. Time limits and T&Cs apply. Registration required.
Full T&Cs
Blinkers: Blinkers are occasionally worn by horses to help them avoid distractions elsewhere on the course. In 2008, Comply or Die became one of the few horses to win the Grand National wearing the distinctive headgear.
Boxed in: A horse is described as being boxed in when it is running alongside the rails and is unable to get a clear run due to other horses alongside it. In this case, a jockey may be forced to temporarily drop back in the hope of finding more space. It is possible for Grand National horses to be boxed in because they are up against 39 rivals all vying for the fastest route to the finish.
Bridle: The bridle is a piece of equipment used to steer a horse. Horses are often described as winning 'on the bridle' if they win a race without being ridden too hard.
Brought down: If a horse falls as a result of being hampered by another horse or jockey, it is described as being brought down, rather than as a faller. This happens in many races where there are a large number of runners, like the Grand National, and would be recorded on a racecard as BD.
Chase: A race run over steeplechase fences is described as a chase. The Grand National is an example of a Chase.
Cheekpieces: Cheekpieces are a form of headgear attached to each side of a horse's face to enable it to focus on the track ahead, without the distractions of what is going on around them. They shouldn't be seen as a negative, and in fact Noble Yeats actually won the 2022 Grand National wearing cheekpieces.
Clerk of the course: The clerk of the course has a number of duties, ranging from deciding the official going and whether the course is fit to race, through to decisions around watering the course and maintaining the fences.
Connections: The term connections refers to those who work with a horse, including the owner, trainer and stable staff. They will see the performance of a horse on a day-to-day basis, so if you hear that connections are optimistic about a horse's chances, it may be a sign to back the horse yourself.
Each-way: A bet split in two – one backing a horse to win and the other backing it to finish placed (depending on the race type and the number of runners this will be 2nd, 3rd or 4th)
Evens or even money: This is betting odds where your stake exactly equals your winnings – £5 at evens wins £5, but as you get your stake back too the total return here is £10
Form: A horse's recent race record. This is shown by figures next to its name on a racecard. Most of the time before the horse's name to the left: 1=1st, 2=2nd etc. 0=unplaced, P=pulled up, R=refused to race, F=fell, U=unseated rider, SU=slipped up.
Favourite: The favourite is the horse that bookmakers believe is most likely to win a race.
Field: The field refers to the number of horses taking part in a race. Most Aintree Grand Nationals take place with a field of 40 horses, while the Welsh and Irish Grand National usually have large fields too, in excess of 20 or 30 horses.
Filly: A filly is a female horse aged four years-old or younger, so it is highly unlikely that you would see a filly contend for the Grand National.
Front-runner: A horse described as a front-runner generally likes to set the pace and lead the field round the course, before the pace picks up in the closing stages.
Furlong: A furlong is a unit of measurement used to the describe the length of a race. There are eight furlongs in a mile, and it is equivalent to 220 yards or approximately 200 metres. The distance of the Grand National is four miles and two and a half furlongs.
Going: The going is a way of describing the state of the ground at a racecourse. A very dry course would be described as firm, with added water taking it through different levels, from good, to soft and finally heavy. The Aintree course may be watered to ensure the best possible conditions for the Grand National meeting, with races ideally taking place on good or good to soft ground.
Group race: Group races are the highest level on the racing calendar.
Handicapper: The handicapper gives each horse in certain races a handicap. This translates into an amount of artificial weight it must carry. The idea is to ensure every horse has a similar chance or winning the race.
Hood: A hood is occasionally worn over a horse's head, to cover its ears. It is used reduce the noise a horse can hear, to prevent it becoming nervous and unsettled in front of large crowds.
Juvenile: A National Hunt horse aged under four years old is described as a juvenile, so it would be unlikely to see one in the Grand National.
Length: A length is a term of measurement used to describe the distance between horses, either during a race or after they have finished. A length is the size of a horse from nose to tail.
Listed race: Listed races are a high level of race, one step below group races.
Maiden: A maiden is a term used to describe horses that are yet to win a race. A maiden race is only open to horses that are yet to win a race.
Mare: A female horse of at least four years old is called a mare. A total of 13 mares have won the Grand National, although the most recent of these was way back in 1951.
Neck: A neck is a way of measuring the winning distance is a close race, and is slightly longer than a head. It is approximately a quarter of a length.
Novice: Novice horses are inexperienced, either in terms of their total races or the number of wins they have recorded.
Odds on: Another odds terms where the winnings are less than the stake – if there is an odds-on priced horse in the race it will always be favourite and also due to the low odds will have a very good chance of winning. For example – £2 bet at 1/2 wins you just £1 (plus your stake).
New UK customers (Excluding NI) only. Mobile exclusive. Min Deposit £10. Min stake £10. Min odds Evs. Free bet applied on 1st settlement of any qualifying bet. 30 days to qualify. Free bets expire in 7 days. Cashed out/Free Bets won't apply. Account & Payment method restrictions apply. 1 Free Bet offer per customer, household & IP Address only. 18+. T&Cs apply. T&Cs apply
Full T&Cs
On the nose: betting on a horse to win only (not to place).
Paddock: Horses head to the paddock ahead of a race, parading slowly round a small, circular area. This offers racegoers the chance to have a close look at the horses before the jockeys mount and take them out to the main racecourse. The area may also be referred to as the parade ring.
Penalty: the extra weight carried by a horse which has won since the weights for a race were originally published.
Photo finish: When a race is too close to call at first glance it is described as a photo finish. The adjudicator will study the finish frame-by-frame to clarify which horse finished in each position. If it is still not possible to split two horses after studying a photo finish, the race would be declared a dead head.
Placed: when a horse finishes placed – this will be determined by the race type. The number of runners in the race, but industry placed terms will always be 1st, 2nd, 3rd or 4th.
1-4 runners: win only.
5-7 runners: 1/4 odds a place for 1,2.
8+ runners: 1/5 odds a place for 1,2,3.
12-15 runners in handicaps only: 1/4 odds a place 1,2,3
16+ runners in handicaps only: 1/4 odds a place 1,2,3,4
SP (starting price): This is the price the horse returned at. You might have taken a price when placing your bet. But if you didn't then every horse is given an SP. This then means all bookmakers across the country can settle that bet at the same odds.
Stalls: Stalls are entered by horses at the start of a flat race. They are not used for National Hunt races like the Grand National.
Stayer: Horses that specialise in longer races, like the Irish, Scottish and Welsh Grand National, and the Aintree Grand National, are described as stayers.
Stewards' enquiry: Occasionally held in the immediate aftermath of a race, when it is perceived that a horse or jockey has broken a rule. The jockeys involved will attend a short meeting in with race officials, before a decision is made over whether to disqualify or demote a horse.
Weighed in: After a race, all the jockeys that have finished must be weighed to ensure they rode with the correct handicap. Once this has been verified, and any stewards' enquiry has happened, an announcement of 'weighed in, weighed in' is made over the tannoy. This is the sign that the race result is official, and that you can collect any winnings that are owed from bookmakers.
Want to learn about how to place your best bet at the Grand National 2024? Check out our betting guides!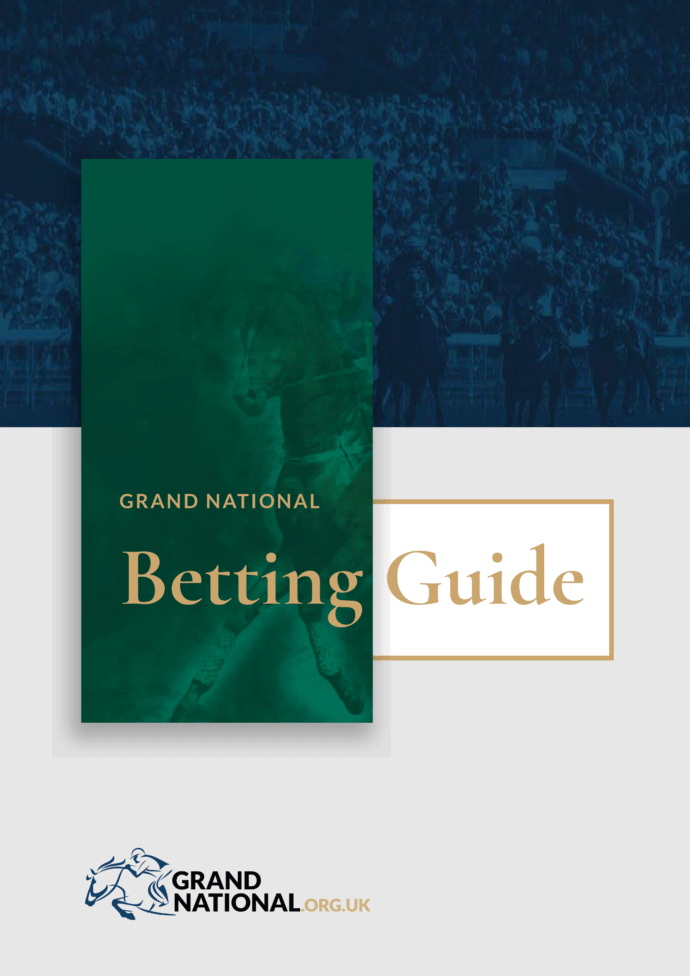 Download our Grand National Betting Guide
You might also like…