Ante-post bets are those placed well in advance of a race or event, before the final field is confirmed. Grand National ante post betting offers you the chance to bet far in advance of the race on horses that you believe are likely to run, and indeed win the race. The uncertainty of the horse not running, and your bet losing without having a run for your money, is factored into the odds. So the risk involved is traded off by getting better odds than if you waited till race day.
Grand National ante post betting
We've put together a comprehensive Grand National ante post betting guide. As soon as the Grand National has finished, bookmakers are quick to price up the odds on next year's race. This means horse racing fans can bet on the Grand National all year-round.
With an array of bookmakers to pick from, it's a great time to be a punter. Firms are always competing for customers business so getting value 2023 Grand National odds is easier than before. The big bookmakers, like William Hill, always provide a good Grand National ante post betting benchmark each year, but shop around as there many other trusted bookmakers, like Bet365, Paddy Power, Betfair, Betfred and Unibet, to name a few.
Grand National Betting Offers
Pros and cons of ante post betting on horse racing
There are a number of reasons to place ante post bets on the Grand National, though these are balanced out to some degree, as summarised in our table below.
| Ante-post betting positives | Ante-post betting negatives |
| --- | --- |
| Better odds | Non-runners are losing bets |
| Better value | Events can go against you |
| Season-long interest | Missing special offers |
| No rule 4 deductions | Your money is tied-up |
The reality is there will be times when ante post betting appeals, and other occasions when it's better to wait. Let's look into the ante-post betting pros and cons in more detail.
What are the advantages of Grand National ante-post betting?
Better odds
Bookmakers know they'll be offering odds on many horses that don't make the final 40, which gives them some flexibility on prices. They also know there's plenty of uncertainty attached to ante-post betting, so we can generally expect prices to be competitive to attract customers.
Better value
The likelihood of getting better value is generally seen as the main reason to place an ante post bet. Perhaps you think a top jockey is likely to ride a particular horse which isn't factored into its price, or you have a hunch that it'll be a wet April and know which horse loves running on soft or heavy ground.
Season-long interest
Backing a horse weeks or even months in advance of a race like the Grand National can give you a horse, and indeed a stable, to cheer for throughout the season. Once you've backed a horse, you know its odds are guaranteed, so it can be fun watching it perform well over a season, seeing the odds fluctuate and hopefully move in your favour.
No rule 4 deductions
A rule 4 deduction is applied when a horse is withdrawn shortly before a race. This exists to protect those who have backed it as they'll receive their stake back, but the odds of all the remaining horses are reduced even if your bet has been placed. However a rule 4 doesn't apply to ante-post odds, so ensuring the odds you've taken are guaranteed even if a favourite is forced to withdraw.
What are the risks of Grand National ante post betting?
Non-runners are losing bets
If for whatever reason (eg, injury, didn't make the cut, running in another race) your ante post Grand National horse pulls out, the bet is classed as a loser and you will lose your bet without having a run for your money. Tip: Look for bookmakers offering non-runner no-bet (NRNB) promotions before the race, to remove this disadvantage.
Unforeseen events can go against you
The Grand National race distance and fences won't change. However, the weather leading up to the big race might. If you've placed an ante post bet on a Grand National horse that runs better on soft ground, a dry spell means the ground will ride a lot quicker. Other unforeseen events, like jockey or trainer decisions, can also go against you if they fancy throwing their weight behind another horse. Or horses that have run well in key Grand National Trial races may become contenders late on, meaning a market shake-up.
Missing Grand National special offers
Come Grand National day, the rush for business hits top gear as the bookmakers entice punters in with special offers. Layers will generally offer things like refunds if your horse falls, extra place payouts, and refunds if your horse finishes second. However, these will generally only be offered in the days before the big race. These are great safety nets to have on your side. Even if you fail to find the 2023 Grand National winner, you might be lucky enough to get your stake back with a specific offer.
Your money is tied-up
Placing a bet months in advance means you won't have access to your stake for a lengthy period of time. Not all bookmakers will offer cash-out options on ante-post markets like the Grand National, so be wary of locking up funds that you'd rather have available to bet with.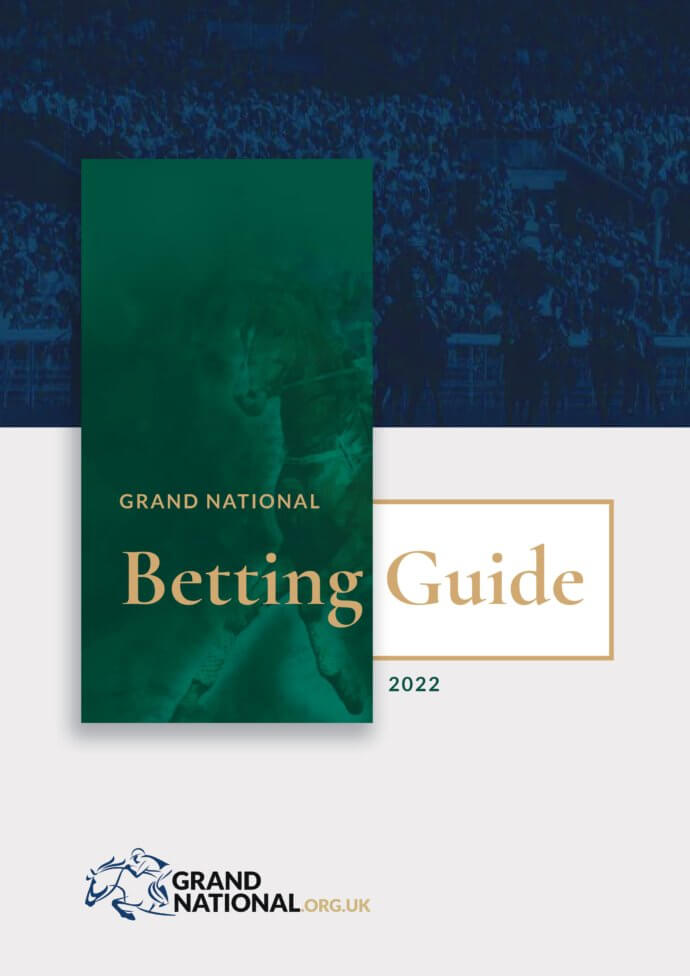 Download our Grand National Betting Guide
What are the rules of Grand National ante-post betting?
These are actually pretty simple:
Ante post bets are lost – or deemed a loser – should that horse not make the final line-up. Note: these are not classed as non-runners, they are losing bets which give the bookmakers a significant edge.
Ante post bets are always settled at the price taken at the time of placing the bet. The only time this doesn't apply is if a particular bookmaker offers 'Best Odds Guaranteed'. Most firms with that offer will do so on the daily racing and NOT ante post market. This means, should you take 10/1 and the horse drifts out to 14/1 on the day and wins – that 'Best Odds Guaranteed' bookmaker will pay you out at the higher odds. But, as mentioned, this will generally apply only to bets you've placed on the day of the Grand National.
Non-Runner, No Bet – Be careful here as only certain bookmakers offer this feature. Those that do they will generally only start offering it around 2-4 weeks before the actual race. Once they do the shift of powerheads back in favour of the punter as any bets that are placed on horses that don't go onto make the final 40 runners will be refunded back into your bookmaker accounts – always check the terms though. On the downside though, once bookmakers offer 'Non-Runner, No Bet' you might notice slightly less value odds being offered.
Using the betting exchanges for Grand National ante-post betting
Just like your normal fixed odds bookmakers, the leading betting exchanges will have a Grand National market that operates all year round.
Should you place a back bet on the exchanges on a horse that doesn't win, you will not be refunded. However, don't forget, that on the betting exchanges you can also lay horses, place a lay bet on that horse losing. This could now mean not even making the final 40 runners! If you fancied a horse wouldn't run (or make the final 40), you've won on the Grand National before the race has run!
An advantage of using the betting exchanges to place your ante post Grand National bets though would be the option to trade, or cash out in the build-up to the race. If you've backed a horse at say 33/1 and after a few good trial races that horse is now come right down in price to say 20/1 then you've got a 13 point swing which you could use to lock in a free bet or a certain profit on the race – no matter which horse wins!
Ante post betting example
£10 win at 33/1 = £330 profit
£10 lay bet at 20/1 = – £200 loss
You've now traded your £10 stake back and are risking nothing on the race. However, with the difference between the £330 winning and the £200 loss being £130 then this is the money you'll win if your fancy goes onto win the Grand National. Best of all you're risking nothing on the race… a 100% free bet!
Grand National ante-post betting tips
Like most things with betting – there are pros and cons attached. By placing a bet way in advance of the race you might obtain bigger odds than race day. If you're confident the horse will run, or be targeted at the race, then it might be worth the risk. As anyone would love to have, say 20/1 on a horse, it might be nearer 10/1 on the day.
However, in racing, a lot can change in a week, let alone several months. Even if you think you've found the 2023 Grand National winner 10 months before the race, it can still get injured. Then, all of a sudden those plans are dashed and so is your ante post bet.
Add in other factors, like the weather changing nearer the time or other fancied horses coming into the race. Now the horse you fancied 10 months ago at 20/1 might be as big as 50/1. A massive 30 points swing!
But, that said, it's great to have the choice and with an array of top bookies to shop around. As we've said before in this piece, there has never been a better time to be a punter.
Grand National 2023 ante-post favourites
See our Ante Post Outlook for the Aintree Grand National 2023 here
Other useful pages
We hope you now feel more comfortable with the intricacies of ante post betting, so why not look at some more useful guides to answer any nagging questions you may have. Our bet calculator helps you see exactly how much your winning bets are worth, while our Tote betting guide, takes you through an alternative way of betting, which often pays out more than a normal bookmaker would.
Our Content
*We hope you enjoyed the selection of bookies we recommended! Just to be clear, grandnational.org.uk may collect a share of sales or other compensation from the links on this page.
You might also like…