Last Updated 13 Oct 2023 | By GrandNational.org.uk | Commercial content | 18+ | Play Responsibly | T&C Apply | Wagering
Each way betting is the most popular form of betting, accounting for around 75% of all bets placed at Aintree. Yet placing a simple each-way bet can still feel daunting to some, given the bulk of Grand National bets are placed by 'once-a-year' punters. Our each way betting guide for 2024 will help you get a handle on each-way betting ahead of the big race.
What is each way betting?
Each way – often shortened to EW or E/W – is a term you'll hear mentioned regularly in the betting world. It allows you to cover the possibility of your horse winning and your horse finishing in the first few places. It literally gives you the chance of winning in each of those two ways.
How does each way betting work?
Each way bets are two bets in one. The first part of your bet will go on your horse to win the Grand National and the other part will go on the horse to be placed in the race, which typically means it must finish in the first four or five places. The two bets are always of equal stakes, for example £5 to win and £5 to place, and you'll win your bet whichever of those two scenarios happen. The table below breaks down the different outcomes that are possible.
*The exact number of places will vary depending on the bookmaker you bet with and the race you bet on. For the Grand National though, this will be at least 4 places, and often 5 or more.
Bet each way on the Grand National with these bookmakers
Why choose each way betting over simple win betting?
The total bet will cost you double, but should your horse not win, but finish 2nd, 3rd or 4th, you'll still get a return from your bookmaker. It really all depends on a few things –
What kind of punter you are
How much you fancy your Grand National horse to actually win the race
However, in a race like the Grand National with 40 horses, plus 30 unique fences to jump, you might have by far the best horse in the race but it's still got to get around and get through the 4+ miles safely.
If you're placing a £10 each way bet Grand National (total stake £20), you'll be safe in the knowledge that if the horse is pipped on the line to be 2nd, or runs on to take 3rd or 4th then you'll still be paid out. You won't get that with a simple win bet.
Use our EACH WAY Bet Calculator
Grand National each way betting example
Don't forget an each-way bet is made up of two parts so when working out any each-way bet this same principle applies. You've got a win bet and a place bet – so after the race, you need to ask yourself two questions:
Did my horse win?
Did my horse finish 2nd, 3rd or 4th?
If the answer to both questions is 'YES' then you've clearly just backed the winner of the 2024 Grand National and are in line to be paid out on both parts of your each-way bet.
If the answer is yes to the second question – did my horse finish 2nd, 3rd or 4th? – you've won your place part of your each-way bet and will be paid out at ¼ the odds. These odds will either be what you decided to take at the time you placed the bet or if you 'let the bet ride' it will be settled at the industry SP odds at which the horse won.
Example:
Bet: £10 each-way (total stake £20) on RED RUM
RED RUM: Wins the Grand National @ 16/1
Win part of your each-way bet (£10) Returns = £160 (+ your £10 stake back) = £170
Place part of your each-way bet (£10) Returns = £40 (1/4 of 16/1 = 4/1) (+your £10 stake back) = £50
TOTAL OVERALL WINNINGS = £170 + £50 = £220
If RED RUM had finished 2nd, 3rd or 4th in this race then you'd only qualify for the place part of your bet = £50
Note: Many bookmakers will add in special 'extra places' on the day. So, for example, if your horse finishes 5th or 6th you might still get paid out (more on Grand National bookmaker special offers below).
If you've placed your Grand National bet online then you've nothing to worry about as the bookmakers will work out the bets for you. Yes, they will also do this in the shop, but it's always advised to know what your returns are before accepting your winning cash off them after the race.
Each way example payouts
The table below shows the payouts you can expect if you're placing a £10 each way bet at with the place part paying 1/4 of the odds. Of course, the place part won't always be at 1/4 the odds, so use our each way bet calculator, to find your exact payout.
Common each way betting mistakes
These mistakes mainly surround the staking as novice punters may not be aware that an each-way bet is, in fact, two bets – therefore, your stake (whatever you decide that is going to be) needs to also be doubled.
For example, A £10 each-way bet on a Grand National horse will cost you £20 in total (£10 for the win part of the bet, £10 for the horse to be placed).
Another common mistake, if you are placing a bet in a shop, is to make sure you write 'each-way' or 'E/W' next to the name of the horse you are betting on.
Or, if you are betting on the Grand National online then when placing your bet this way will always require you select an e/w button or box to tick. The good news online though is that your total stake will be worked out for you should you tick the 'each-way' button.
How do I win – each way betting rules
The number of places that bookmakers pay out on is determined by the number of runners in the race. With the Grand National being a handicap race that always has 16 or more runners, the industry set each-way terms that this race falls into are highlighted below.
Handicap races:
This means because the race has 16 or more runners, and the type of race is a handicap, all UK bookmakers have to pay their customers on the place part of the bet at ¼ the odds and for 1st, 2nd, 3rd & 4th places.
In a nutshell, the horse you are betting on in the 2024 Grand National needs to finish in the top 4 in order for you to win something on your each way bet
Where to place the bet? List of bookmakers
As already mentioned, the standard industry place terms for the Grand National (providing there are 16+ runners) are set at 4 places, but a lot of the main bookmakers will entice customers in by offering extra places.
It's a tough feeling when your horse finishes fifth or sixth and you don't receive your each way bet Grand National payout, just because your bookmaker is paying out on fewer each way places than the rest. Bookmakers that offer extra places and the best each way bet Grand National terms include:
These bookmakers give you also interesting Grand National Free Bets offers.
Some bookmakers have even been known to offer places right down to 7th and 8th in the past so be sure to hunt around for the best offer. All we would say is that those bookmakers that might be offering extra places on top of the standard 1-2-3-4 may well compensate this by offering slightly worse odds on the race so take this into account. Yes, you might be getting 1-2-3-4-5 places, but that might be sacrificed by having to back a horse at 10/1 that is 14/1 elsewhere.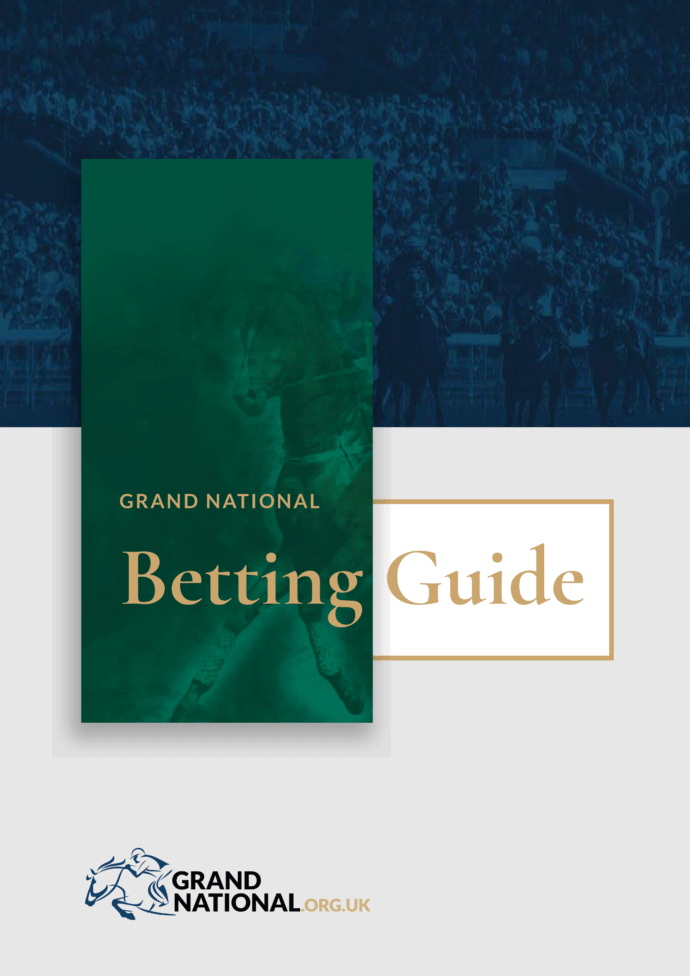 Download our Grand National Betting Guide
Which Grand National horses should I bet each-way on?
With the betting on the Grand National each year always extremely competitive, punters should shop around and get value betting odds.
The general rule with Grand National each way betting is that because the place part of an each-way bet is ¼ of the winning odds, the benchmark price to bet each-way is around 4/1 or higher.
Anything lower than 4/1 and, unless the horse wins, you'll actually return a loss on your overall stake.
But the good news about the Grand National is that it's extremely rare for horses to be priced-up in the betting market at 4/1 or shorter. Even the favourites in the race are generally around 8/1-10/1, while in 2022 we even saw a 50/1 winner of the Grand National in Noble Yeats – a ¼ of 50/1 is still over 12/1 so even the place part of this bet for punters saw a mega return.
Other useful pages
We hope you now feel more comfortable with each way betting, so why not take the next steps in discovering how to bet on the Grand National, with our Tote betting guide and ante-post betting guide, removing the confusion associated with racing and betting terminology to give you an enjoyable experience. If you want to place an each-way bet now, but are unsure where to find the best each-way terms, we've got that covered too.
Our Content
*We hope you enjoyed the selection bookies we recommended! Just to be clear, grandnational.org.uk may collect a share of sales or other compensation from the links on this page.
You might also like…