Last Updated 12 Apr 2023 | By GrandNational.org.uk | Commercial content | 18+ | Play Responsibly | T&C Apply | Wagering
April 4th 2023, 10:53 am
By GrandNational.org.uk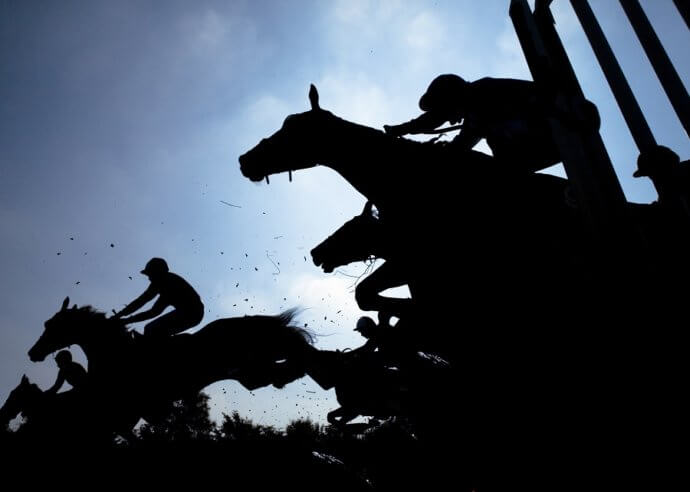 The Grand National is a longstanding British tradition. Every year since 1839, the world's top thoroughbreds meet annually to compete at one of the most prestigious and revered horse racing events in the world. Up to 40 horses compete at this exhilarating steeplechase – capturing the imaginations of fans – while undoubtedly encouraging new generations of riders to take the reins. Over an average distance of four miles and two and a half furlongs, jockeys and their steeds are pitted against one another, jumping 30 fences around two laps of the course. 
For fans of horse racing and for sports enthusiasts alike, this awe inspiring event is still as popular as ever – drawing huge crowds to the Aintree Racecourse each year.  If you're thinking about placing a bet on this year's Grand National, understanding what makes a competitor a winner is key to advancing the odds. We know that race horses are bred and trained to run long distances, but how fast can a horse run? When it comes to Grand National horse speed, just how fast are these purebreds?
We take a look at some of the past winners and compare their horse race speeds to some of the fastest humans in recorded history. We'll also show how they stack up against man made machines that are specially optimised for performance. When it comes to nature versus machine, just who is the fastest? And if athletes were bred like horses, would they be able to bridge the speed gap?
Human vs Racehorse vs Machine
A comparison between some of the world's top human athletes, sports cars, trains and some of the fastest Grand National horses in history shows how man and beast rank. The positions demonstrate that while the top of the table isn't occupied by horses or people, the benchmark for humans is surprisingly high. Olympic Sprinter Usain Bolt's score shows how he is faster than the Bay Gelding Cheltenham winner, Corach Rambler by a whole 1 mph. While Usain Bolt is a sprinter and not a distance runner, using his average speed over miles, if Bolt were a racehorse he would finish 9th in the overall table of fastest ever Grand National winners – placing him just above racehorses Grittar and Silver Birch.
At the top of the table is the fastest recorded sports car. The Bugatti Chiron Super Sport 300+ has a recorded top speed of 304 mph and is, overall, 754% quicker than the fastest recorded Grand National racehorse Mr Frisk. In fact, Mr Frisk would need to be nine times faster than his best ever recorded speed in order to match The Bugatti Chiron Super Sport 300+ time.
For fans of watersports, we've also analysed one of the most decorated Olympians around – Michael Phelps – to get an idea of how swimmers fare. At 5.5 mph, while powerful and impressive, if Mr Phelps were to race against Mr Frisk he would need to swim 6.5 times faster to beat the Grand National Champion.
Speed is the name of the game for Liverpool forward and captain of the Egyptian National squad Mo Salah. However, even as one of the world's most prolific and outstanding goal scorers, Salah's speed chalks up as 1.5 times slower against the 2022 Grand National winner (and 2023 favourite) Noble Yeats.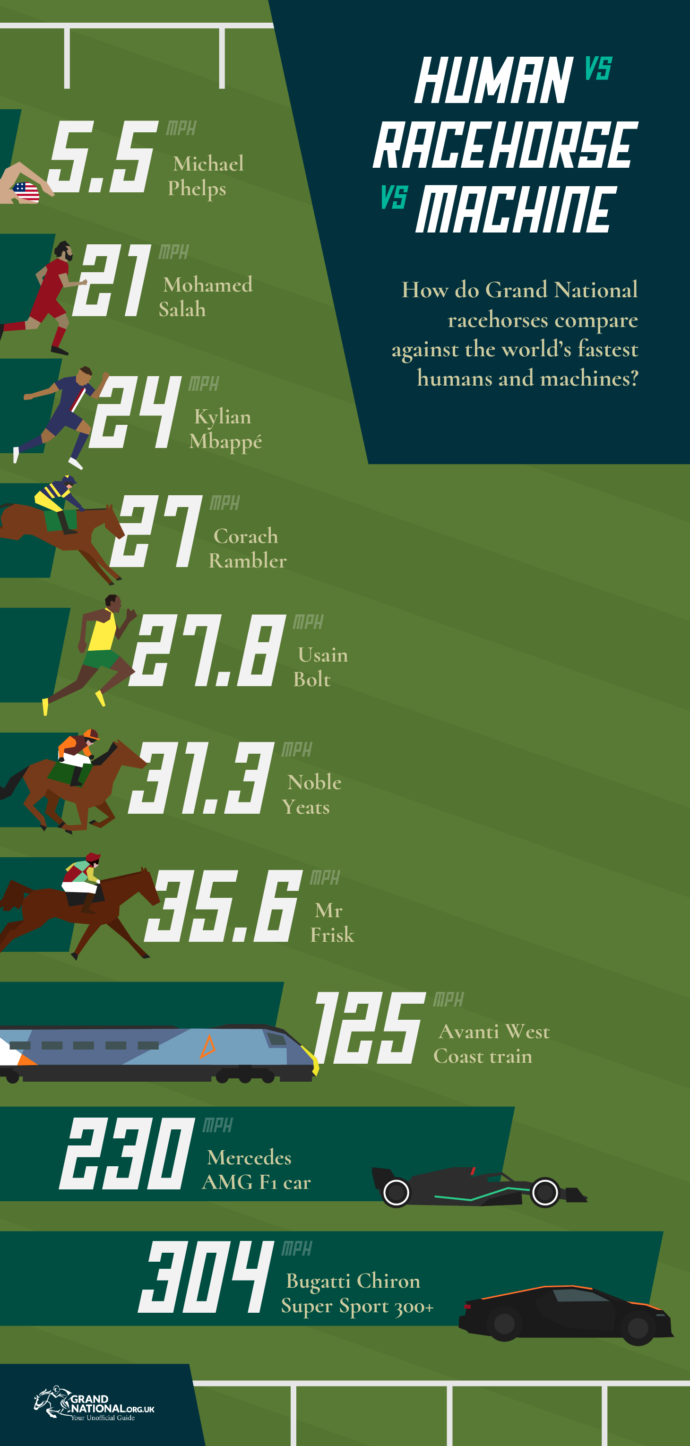 Top 10 fastest horses in Grand National history
For any follower of horse racing, witnessing champion Thoroughbreds compete as they maintain their top speeds across the course is a spectacular sight, and undeniably a feat of both speed and stamina. At the height of fitness, these horses can achieve velocity of up to 40 mph per hour, but just what is the top speed of a racehorse?
Grand National top speed
The top 10 fastest racehorses in recorded UK history highlight just how impressive these champions are. Mr Frisk, who beat out the competition in1990 holds the record for the fastest Grand National win – running in a time of 8 minutes and 47.8 seconds. To put this in perspective, that's an average speed of 35.6 miles per hour. Racehorse Tiger Roll made history by winning twice in a row in 2018 and again 2019 – securing a place in the record books as the first horse to win the Grand National in consecutive years since Irish champion Thoroughbred Red Rum. Arguably Grand National's most famous equine competitor, three-time champion Red Rum retains the record for the most wins. He beat rival Crisp in 1973, 1974 and 1977 – eventually retiring in 1978.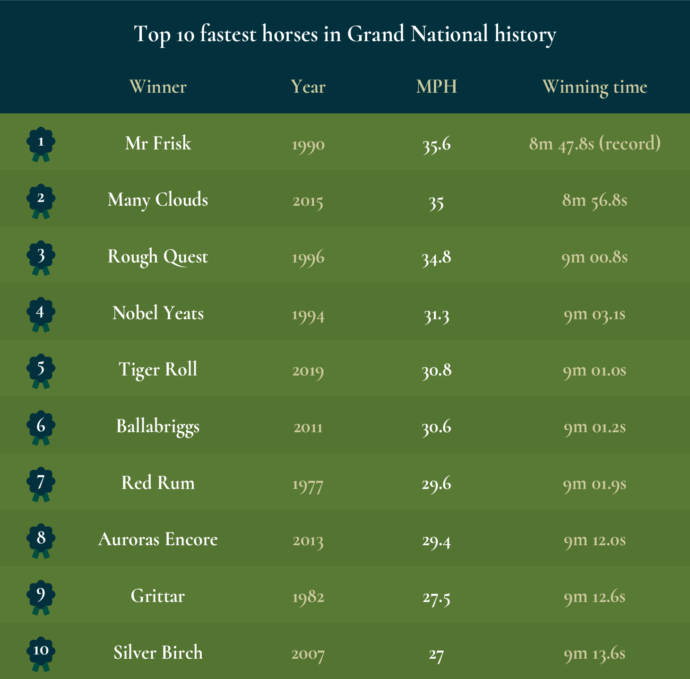 A question some fans will want to know is, will Mr. Frisk's current record be broken in 2023? 
Factors affecting a racehorses speed
Racehorses are bred specifically, and many of the sport's best loved or famous winners come from a long lineage of racing champions. Winners are created through the study of pedigree – observing the bloodline and examining race results of horses that run through generations. 
So how do racehorses achieve such extraordinary race times? Striving for great results, alongside the mix of breeding, training and diet the trainers ensure the horses follow a specific programme. But a healthy pedigree and careful balance of feed and exercise can't guarantee prize money. There are certain factors that affect not only the overall speed of individual animals, but also the outcome. Some of these factors are even responsible for whether horse and rider fall – or finish the race at all.
Aintree racecourse is long and the ground conditions, although monitored, can cause problems even for the world's most accomplished competitors. The course of 30 fences also includes Becher's Brook, featuring at numbers 6 and 22. This fence has become infamous for its reputation as one of the hardest fences of the event. While plenty of horses clear the jump, a 6ft 9 inch drop on the other side means that riders must employ a strategy on the approach to make sure they clear it. Another typically tricky obstacle includes the 5ft 2 inch fence known as 'The Chair'. In 1862, a lengthy ditch was added, to allow competitors a greater run up – making allowances for the heights needed to negotiate the jump. 
The weather – and exactly how much weather – is sometimes an obstacle all of its own. Some of the wettest Grand National races in previous years account for some of the most interesting conditions horse racing has seen. Astonishingly, in 2001, just four horses out of 40 finished the course due to bad weather. Despite the uncertainty of UK weather – which can be particularly wet around the month of April – the Grand National is yet to be cancelled due to bad weather.
The slimmest of margins can mean the difference between the euphoria of raising the cup, and the disappointment of fourth place. Course and weather conditions notwithstanding, there are more factors that play a part in rankings and results. If you're thinking of placing a bet this year and want to get ahead of the bookies, here's what to look out for:
Experience over fences – horses that have a successful record jumping hurdles earlier in the season tend to do well.
Stamina – look for horses that are either National race winners, or are at least placed (finishers). Horses that ride at pace during races without being held up are also worth looking out for.

Consider staying power – picking horses that have won over a three-mile course is crucial.
Age of the horse – those older than eight but younger than 13 will typically hold a good recent record.

Weight – few horses weighing over 11 st 5 lbs win National races. 21 of the most recent 28 Grand National winners are known to weigh 10 st 12 lbs or less.
Find out about this year's event, discover the best odds and get expert insights on the 2023 Grand National favourites.
How much does the Grand National winner get vs World Record breaking athletes?
We've seen how the divide between human and horse indicates that when it comes to endurance, the latter won't be beaten. While the International Olympic Committee doesn't pay out prize money to athletes, the world's top international competitors can land earnings of up to £63,870 for any existing records they break. Of course, sponsorship deals and endorsements are just two of the additional ways the top athletes can boost their annual income. By comparison, the Grand National 1st prize pot is a whopping £561,000 – that's nine times larger than the aforementioned World Record bonus received by Olympic athletes! This makes horses the leading earners over their human counterparts.
Want to know more about this year's event? We've got everything you need to know about the 2023 Grand National event, at GrandNational.org.uk – the ultimate unofficial guide to The Aintree Grand National. Explore data analysis that pulls on previous Grand National winners, and see how their speeds compare to some of the very fastest humans and man made machines.
Latest News
October 26th 2023, 1:24 pm
RACING-ENG-NATIONAL Jockeys ride their horses after starting the Grand National horse race on the final day of the Grand National Festival at Aintree Racecourse on April 6, 2019. Oli SCARFF / AFP The most famous steeplechase in the world, the Randox Grand National at Aintree, is set to undergo some significant change from 2024 onwards […]
October 11th 2023, 12:27 pm
Image via @GBRacing on X Trainer Christian Williams is looking forward to the journey that he hopes will bring him to Aintree in the spring with star staying chaser Kitty's Light for a tilt at the Grand National. The Ogmore Castle-based handler is adamant that Kitty's Light is 'made' for Aintree in the spring and […]
September 20th 2023, 10:43 am
Image via @RacingTV on X Grand National hero Corach Rambler is likely to begin the new season at Kelso in late October, says trainer Lucinda Russell. The three-and-a-quarter-mile Edinburgh Gin Chase at the Borders track on October 28th is being touted as a starting point for a horse with Cheltenham Gold Cup aspirations this season. […]