Last Updated 29 Sep 2022 | By Enda McElhinney | Commercial content | 18+ | Play Responsibly | T&C Apply | Wagering
July 21st 2022, 10:58 am
By Enda McElhinney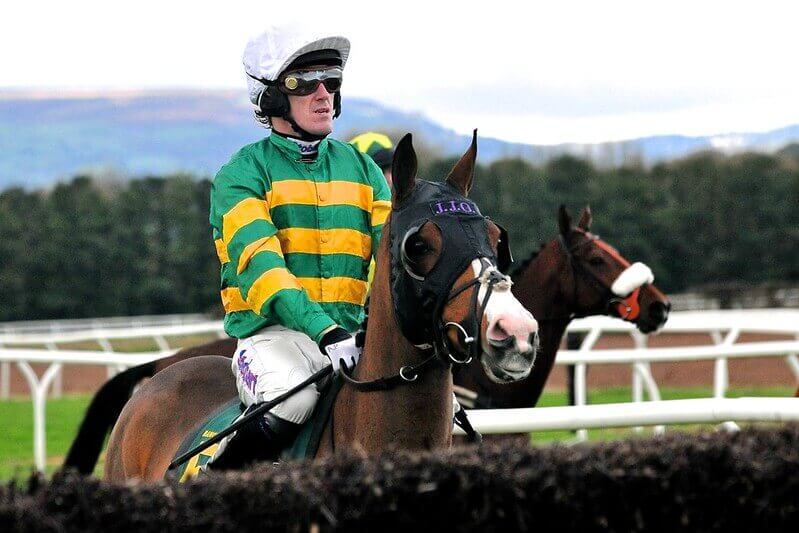 National hunt racing champion jockey Tony (AP) McCoy. Photo Credit: Paul / Flickr / CC-BY-2.0
AP McCoy was, for a generation, the face of jumps racing but he could never quite manage to win the most famous race in a sport he dominated.
Crowned champion jockey in Britain for 20 years running, McCoy tried and failed on plenty of occasions to win the Aintree Grand National.
There was heartache and despair, who will forget Clan Royal being carried out by a loose horse in 2005 when he and McCoy were tanking along in front.
Finally, on his 15th attempt, McCoy won the National on Don't Push It for his long-time bosses Jonjo O'Neill and JP McManus.
The horse went from 25/1 on raceday into 10/1 joint-favouritism by the off and 'The Champ' didn't let his backers down on that Aintree afternoon.
A coin toss
Reflecting back on the 2010 Grand National and the sheer relief of victory, McCoy – now retired and a familiar face as a pundit on ITV Racing during the National Hunt season – admits it was a close call to him even riding Don't Push It at all.
"At the time I was riding mainly for JP McManus, who had four horses running in the race. One of them was called Arbor Supreme, who was ante-post favourite for quite a while. He was trained by Willie Mullins and I had ridden him once or twice and I thought there is no way in the world that Arbor Supreme is going to get around in the Grand National, never mind winning it, so he just wasn't an option for me," McCoy told William Hill in the run-up to the 2022 race.
"Another horse called King Johns Castle, who had been second in the race, but had been off for a year and a half, which would be like coming back having not played in a game of football and they expect you to play in the Champions League final – it isn't going to happen, you're not going to win.
"Then he had two other horses, one called Can't Buy Time, who was okay and then there was Don't Push It. I remember ringing Jonjo O'Neill, who was training both horses that morning, and asking him which one I should ride in the Grand National, and he said he didn't know.
"So, I asked him to toss a coin. My head was that melted. So, he tossed the coin and it was Don't Push It."
Not so confident
Having ridden 'four or five' losing favourites in the race before 2010, McCoy was expecting a lot on Don't Push It – even before the swathe of money saw them going off at 10/1 on the day.
He believed Don't Push It had the talent, but was unconvinced on the form front.
"This horse had a lot of talent but also a few issues, mentally as well as physically. Two weeks before he actually pulled up in a race at Cheltenham. So, two weeks before, he was probably 50/1, so I had no interest in riding him.
"Anyway, my name went down beside him…I was thinking, 'yes, he had a bit of talent, he had won a race at Aintree the year before, but hadn't won since', so I didn't realistically think he was going to win the Grand National."
That was all to change as McCoy and Don't Push It wrote perhaps the most famous page of all in his storied career as a jockey – and most definitely the page that would have been posted 'missing' in his story had it never happened.
Latest News
October 26th 2023, 1:24 pm
RACING-ENG-NATIONAL Jockeys ride their horses after starting the Grand National horse race on the final day of the Grand National Festival at Aintree Racecourse on April 6, 2019. Oli SCARFF / AFP The most famous steeplechase in the world, the Randox Grand National at Aintree, is set to undergo some significant change from 2024 onwards […]
October 11th 2023, 12:27 pm
Image via @GBRacing on X Trainer Christian Williams is looking forward to the journey that he hopes will bring him to Aintree in the spring with star staying chaser Kitty's Light for a tilt at the Grand National. The Ogmore Castle-based handler is adamant that Kitty's Light is 'made' for Aintree in the spring and […]
September 20th 2023, 10:43 am
Image via @RacingTV on X Grand National hero Corach Rambler is likely to begin the new season at Kelso in late October, says trainer Lucinda Russell. The three-and-a-quarter-mile Edinburgh Gin Chase at the Borders track on October 28th is being touted as a starting point for a horse with Cheltenham Gold Cup aspirations this season. […]