Last Updated 5 Apr 2023 | By Enda McElhinney | Commercial content | 18+ | Play Responsibly | T&C Apply | Wagering
February 22nd 2023, 11:53 am
By Enda McElhinney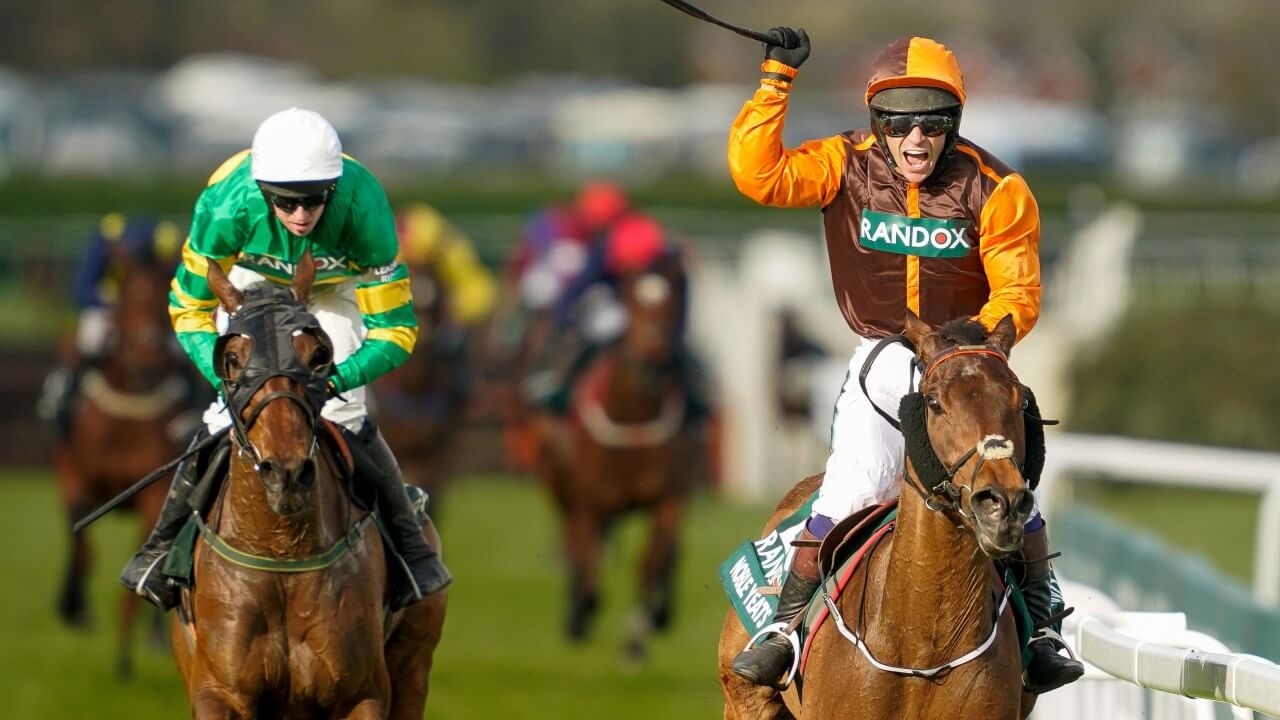 Image via @JamesStevens180 on Twitter
Noble Yeats will race from a 19lb higher mark at Aintree on April 15th in his bid to repeat last year's Grand National win, after the weights were revealed for the National Hunt spectacular.
The Emmet Mullins-trained eight-year-old was a shock 50-1 winner of the prestigious contest last year, giving Gold Cup-winning amateur rider Sam Waley-Cohen the perfect farewell in the saddle.
He is on schedule to be back to defend his crown in 2023, but he will do so with his rating having risen to 166 – up 19lb from his mark of 147 last year.
Top-weight for Any Second Now
The Ted Walsh-trained Any Second Now, third in 2021 behind Minella Times and second last year, is joined at the head of the weights by Gordon Elliott's 2022 Irish Gold Cup victor Conflated and Shark Hanlon's American Grand National hero Hewick.
Both of those Irish-based contenders are first destined for next month's Cheltenham Gold Cup.
There are some 77 horses still in the hunt for the Grand National, though that number will be whittled down in the coming weeks to a final field that maxes at 40.
Henry De Bromhead's Minella Times, famously guided to glory by Rachael Blackmore in 2021, was 20th on the list but his trainer confirmed earlier on Tuesday that he has been retired after a minor setback.
Delta Work Elliott's main hope
Gordon Elliott has 18 horses among the 77 remaining entries, including last year's third Delta Work, who will race off 11st 4lb, while Galvin has been given 11st 11lb alongside Noble Yeats.
While last year's Irish Gold Cup winner Conflated has joint top-weight, Elliott says Delta Work – third last year – is his main challenger.
"This has been the plan all season. He has a nice weight for the race and I'm happy with that," said Elliott.
"We just switched him back to hurdles on his last start to sharpen him up a bit as he had gone a little bit rusty. It was a race we had run Tiger Roll in before he went to Cheltenham and then on to Aintree.
"I thought he ran very well in the National last season behind Noble Yeats. He got a little bit far back early on and he had lots to do. Having had that experience over the fences, we go back there with plenty of confidence and we are looking forward to it."
Walsh 'absolutely shocked' with burden of top-weight
Ted Walsh knows exactly what is required to win the Aintree marathon, having done so with Papillon in 2000, but the Kildare-based trainer feels Any Second Now has little chance of completing a 3-2-1 in the race after he was given top weight alongside Conflated and Hewick.
"All I can say is that I know he's not Red Rum, I know he's not a Crisp and he's not a L'Escargot, so make your own mind up," said the trainer.
"I'm absolutely shocked that he has top-weight. He goes there in as good form as he did last year. He is in as good nick as he was last year, but he's got top-weight so make your own mind up. I think he'd have to be an exceptional horse to win it with top-weight."
'Horses for courses' says optimistic Mullins
Emmet Mullins for his part said he wouldn't be complaining after Noble Yeats was allotted a mark of 166 for his title defence. As things stand that means he will carry 11st 12lb but the young Irish trainer isn't being put off.
"I can't complain with a rating of 166. It's 19lb more than last year which will be a big ask, but he seems to have progressed well this year and we know he takes to the fences," said Mullins.
"It's horses for courses and fingers crossed he can put up a bold show."
2023 Grand National weights: the full list
1 Any Second Now 11st 12lb (167)
2 Conflated 11st 12lb (167)
3 Hewick 11st 12lb (167)
4 Galvin 11st 11lb (166)
5 Noble Yeats 11st 11lb (166)
6 Envoi Allen 11st 8lb (163)
7 Royale Pagaille 11st 8lb (163)
8 Fury Road 11st 6lb (161)
9 Capodanno 11st 5lb (160)
10 The Big Dog 11st 5lb (160)
11 Delta Work 11st 4lb (159)
12 Sam Brown 11st 4lb (159)
13 Franco De Port 11st 3lb (158)
14 Lifetime Ambition 11st 3lb (158)
15 Carefully Selected 11st 1lb (156)
16 Chris's Dream 11st (155)
17 Coko Beach 11st (155)
18 Gaillard Du Mesnil 11st (155)
19 Longhouse Poet 11st (155)
*20 Minella Times 11st (155) – RETIRED
21 Darasso 10st 13lb (154)
22 Burrows Saint 10st 12lb (153)
23 Pencilfulloflead 10st 12lb (153)
24 Ga Law 10st 11lb (152)
25 Happygolucky 10st 11lb (152)
26 Le Milos 10st 11lb (152)
27 Quick Wave 10st 11lb (152)
28 The Shunter 10st 11lb (152)
29 Escaria Ten 10st 10lb (151)
30 Farclas 10st 10lb (151)
31 Remastered 10st 10lb (151)
32 The Big Breakaway 10st 10lb (151)
33 Threeunderthrufive 10st 9lb (150)
34 Cape Gentleman 10st 8lb (149)
35 Cilaos Emery 10st 8lb (149)
36 Diol Ker 10st 8lb (149)
37 Roi Mage 10st 8lb (149)
38 A Wave Of The Sea 10st 6lb (147)
39 Minella Trump 10st 6lb (147)
40 Vanillier 10st 6lb (147)
41 Velvet Elvis 10st 6lb (147)
42 Ain't That A Shame 10st 5lb (146)
43 Corach Rambler 10st 5lb (146)
44 Enjoy D'Allen 10st 5lb (146)
45 Lord Lariat 10st 5lb (146)
46 Ash Tree Meadow 10st 4lb (145)
47 Battleoverdoyen 10st 4lb (145)
48 Cloudy Glen 10st 4lb (145)
49 Gin On Lime 10st 4lb (145)
50 Mister Coffey 10st 4lb (145)
51 Mr Incredible 10st 4lb (145)
52 Ashtown Lad 10st 3lb (144)
53 Gabbys Cross 10st 2lb (143)
54 Hill Sixteen 10st 2lb (143)
55 Eva's Oskar 10st 1lb (142)
56 Rapper 10st 1lb (142)
57 Recite A Prayer 10st 1lb (142)
58 Death Duty 10st (141)
59 Dunboyne 10st (141)
60 Francky Du Berlais 10st (141)
61 Frontal Assault 10st (141)
62 Our Power 10st (141)
63 Sporting John 10st (141)
64 Back On The Lash 9st 13lb (140)
65 Fortescue 9st 13lb (140)
66 Defi Bleu 9st 12lb (139)
67 Born By The Sea 9st 10lb (137)
68 Gevrey 9st 10lb (137)
69 Milan Native 9st 10lb (137)
70 Punitive 9st 10lb (137)
71 Captain Kangaroo 9st 8lb (135)
72 Darrens Hope 9st 8lb (135)
73 Fakiera 9st 8lb (135)
74 Mortal 9st 8lb (135)
75 Captain Cattistock 9st 5lb (132)
76 Fantastikas 9st 5lb (132)
77 Secret Reprieve 9st 5lb (132)
78 Glamorgan Duke 9st 1lb (128)
Latest News
October 26th 2023, 1:24 pm
RACING-ENG-NATIONAL Jockeys ride their horses after starting the Grand National horse race on the final day of the Grand National Festival at Aintree Racecourse on April 6, 2019. Oli SCARFF / AFP The most famous steeplechase in the world, the Randox Grand National at Aintree, is set to undergo some significant change from 2024 onwards […]
October 11th 2023, 12:27 pm
Image via @GBRacing on X Trainer Christian Williams is looking forward to the journey that he hopes will bring him to Aintree in the spring with star staying chaser Kitty's Light for a tilt at the Grand National. The Ogmore Castle-based handler is adamant that Kitty's Light is 'made' for Aintree in the spring and […]
September 20th 2023, 10:43 am
Image via @RacingTV on X Grand National hero Corach Rambler is likely to begin the new season at Kelso in late October, says trainer Lucinda Russell. The three-and-a-quarter-mile Edinburgh Gin Chase at the Borders track on October 28th is being touted as a starting point for a horse with Cheltenham Gold Cup aspirations this season. […]