Last Updated 8 Jun 2023 | By Enda McElhinney | Commercial content | 18+ | Play Responsibly | T&C Apply | Wagering
April 26th 2023, 11:18 am
By Enda McElhinney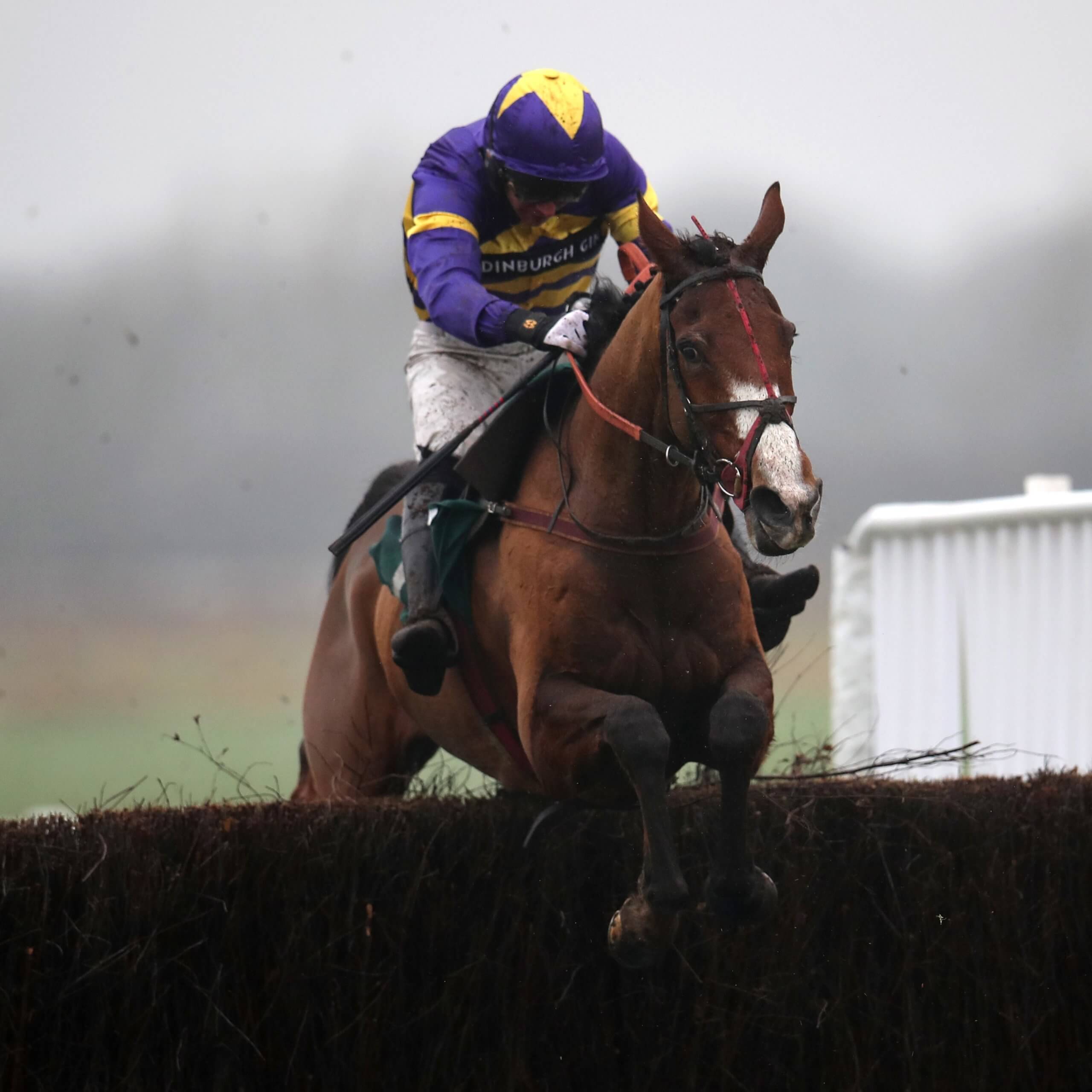 Image via @AtTheRaces on Twitter
Connections of Aintree Grand National winner Corach Rambler have been rejoicing in their success.
The Lucinda Russell-trained Corach Rambler won the big race at Liverpool under Derek Fox, travelling ever-so smoothly into contention and coming clear to win in decisive fashion.
It was a second victory in the Aintree contest for trainer Russell and Fox, after One For Arthur in 2017, and only Scotland's third – with Rubstic the first back in 1979.
Owned by a syndicate named The Ramblers, the star performer cost a relatively low sum of £17,000 and has now won twice at the Cheltenham Festival along with his Grand National win.
Dreams come true for Ramblers
Ally Wood, aged 30, who is from Kinross close to where Russell's training base is situated, is one of seven owners and paid £3000 for his share during Lockdown. He admitted last week it was a "complete punt".
Corach Rambler has now won five of his ten starts over fences, including two wins in the Ultima Handicap Chase at the Cheltenham Festival, but Wood says Aintree was quite unique.
"I'd been in parade rings before at quite big races, but someone earlier in the week had said it is different at the Grand National," Wood told PA after the win.
"It is quite intense and you can tell everybody in there is nervous because it is pretty life-changing for the jockeys, trainers and horses. It was a perfect ride from Derek. He was perfectly positioned.
"Corach jumped and travelled brilliantly. Everything fell into place…I've watched the replay back a few times!"
Partnership enjoy special Aintree moment
Wood revealed nerves were a major part of the Aintree experience, admitting he watched most of the Grand National in relative isolation – before joining his fellow Ramblers – Keith Garwood, Cameron Sword, Gary Scott, Paul Hillis, Bill Wallace and Thomas Kendall – for some jubilant celebrations.
"I actually stood on my own watching it in the paddock," he said. "I wasn't moving when there were fences to jump.
"But when he cleared the last fence, I started to get excited and then moved over to where all the other owners were.
"There are videos of everyone going wild. It was just pure joy. We didn't know each other a couple of years ago but we all love the horse and were jumping around hugging each other."
Wildest dreams exceeded with shock star
Wood suggests he never dreamt that his ownership investment could lead to such a dream outcome.
A racing fan since boyhood, the decision to join an ownership syndicate wasn't made in the hopes of making money, but Corach Rambler has exceeded all expectations.
"All of my mates can't believe it. Everyone thought it was a bit of a joke and that it wasn't going to be a good horse. It is remarkable," he added.
"You look at his prize money now and it's nearly £700,000. It definitely wasn't an investment for me, just a hobby. But it has paid off."
Corach Rambler is still just nine years old and is the bookies favourite at around 20/1 to come back and win a second Grand National in Aintree come 2024.
Latest News
October 26th 2023, 1:24 pm
RACING-ENG-NATIONAL Jockeys ride their horses after starting the Grand National horse race on the final day of the Grand National Festival at Aintree Racecourse on April 6, 2019. Oli SCARFF / AFP The most famous steeplechase in the world, the Randox Grand National at Aintree, is set to undergo some significant change from 2024 onwards […]
October 11th 2023, 12:27 pm
Image via @GBRacing on X Trainer Christian Williams is looking forward to the journey that he hopes will bring him to Aintree in the spring with star staying chaser Kitty's Light for a tilt at the Grand National. The Ogmore Castle-based handler is adamant that Kitty's Light is 'made' for Aintree in the spring and […]
September 20th 2023, 10:43 am
Image via @RacingTV on X Grand National hero Corach Rambler is likely to begin the new season at Kelso in late October, says trainer Lucinda Russell. The three-and-a-quarter-mile Edinburgh Gin Chase at the Borders track on October 28th is being touted as a starting point for a horse with Cheltenham Gold Cup aspirations this season. […]