Last Updated 29 Sep 2022 | By Enda McElhinney | Commercial content | 18+ | Play Responsibly | T&C Apply | Wagering
June 16th 2022, 12:59 pm
By Enda McElhinney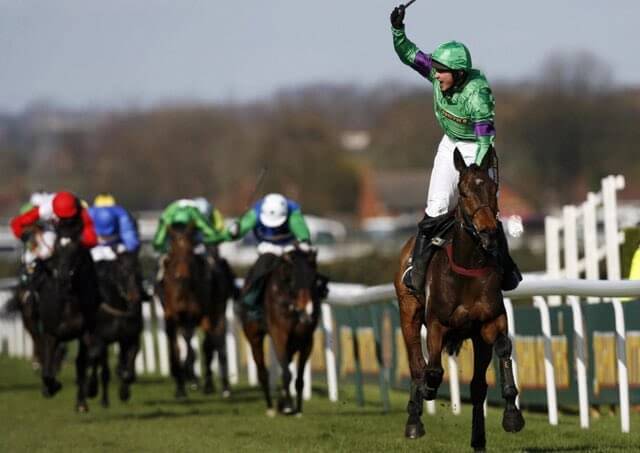 Image via @MartinPBSmith on Twitter
The Grand National has long been regarded as being one of the toughest races to win and it rates as one of the most unpredictable contests on the National Hunt calendar to boot.
Shocks at Aintree are not uncommon. We saw one this year as Sam Waley-Cohen marked his final ride in the saddle by steering 50/1 chance Noble Yeats home in front for Irish trainer Emmet Mullins.
Those odds were rewarding – he was as big as 80/1 on the day – but are by no means the longest SPs of Grand National winners.
Here's our look at the five 100/1 winners of Aintree's great showpiece.
Tipperary Tim – Last man standing – 1928
Amateur rider Mr Bill Dutton told the story afterwards of how he'd heard someone in the crowd shout that he'd 'win the race if every other horse fell down' just before they went off in the 1928 Grand National – and that's just what transpired.
A field of 42 horses started and incredible 41 of them fell along the course. Some remounted but failed to finish, leaving Tipperary Tim to fend off just one other finisher, the remounted Billy Barton at odds of 33/1.
The 1928 Grand National set a record for the fewest horses to finish a Grand National race and the odds of 100/1 were also a record – one which stands to this day.
Gregalach – Successive three-figure stunners – 1929
You wait so long for one to come along and, suddenly, it's back-to-back 100/1 winners when Gregalach scored a year later for trainer Tom Leader and rider Robert W H Everett.
It's never happened before or since and another standout fact about the 1929 race was the starting field – an incredible 66 runners took to the Aintree turf – a record.
Caughoo – Too good for the rest – 1947
Trainer Herbert McDowell brought Caughoo to Aintree in 1947 as a rank outsider but the horse clearly wasn't aware as he took Eddie Dempsey on quite the spin around the National course.
Caughoo came home in splendid isolation, with a massive 20-lenghs to spare on second-placed Lough Conn, blitzing the opposition and making a mockery of his odds.
Foinavon – Avoiding the carnage – 1967
Few will ever forget the 1967 National as Foinavon stunned Aintree with his win. Big-race rider John Buckingham was said to have been the fourth jockey offered the ride on Foinavon and the only one to accept it.
A melee unfolded at the 23rd fence when the loose Popham Down veered across the leaders and caused a pile up. The leaders all fell or were brought down. As they tried to remount and go again, more horses came unstuck trying to negotiate the mess that had unfolded.
Foinavon had 21 horses in front of him when the incident occurred, but he was the first one to get over the fence and he went on to win as nothing was able to make up the lost ground. A famous win and the fence we now know as Foinavon was born.
Mon Mome – Allez le French – 2009
Trainer Venetia Williams landed the 2009 race with rank outsider and French-bred Mon Mome – the first National winner in a century to have been bred on the continent.
Comply Or Die, an Aintree regular, was second under Timmy Murphy and Ruby Walsh brought My Will home in third, but they had no answer to Mon Mome, a 12-length winner of the Grand National and, so far, the only three-figure winner this century.
Latest News
October 26th 2023, 1:24 pm
RACING-ENG-NATIONAL Jockeys ride their horses after starting the Grand National horse race on the final day of the Grand National Festival at Aintree Racecourse on April 6, 2019. Oli SCARFF / AFP The most famous steeplechase in the world, the Randox Grand National at Aintree, is set to undergo some significant change from 2024 onwards […]
October 11th 2023, 12:27 pm
Image via @GBRacing on X Trainer Christian Williams is looking forward to the journey that he hopes will bring him to Aintree in the spring with star staying chaser Kitty's Light for a tilt at the Grand National. The Ogmore Castle-based handler is adamant that Kitty's Light is 'made' for Aintree in the spring and […]
September 20th 2023, 10:43 am
Image via @RacingTV on X Grand National hero Corach Rambler is likely to begin the new season at Kelso in late October, says trainer Lucinda Russell. The three-and-a-quarter-mile Edinburgh Gin Chase at the Borders track on October 28th is being touted as a starting point for a horse with Cheltenham Gold Cup aspirations this season. […]