Last Updated 17 Mar 2022 | By Enda McElhinney | Commercial content | 18+ | Play Responsibly | T&C Apply | Wagering
February 17th 2022, 9:30 am
By Enda McElhinney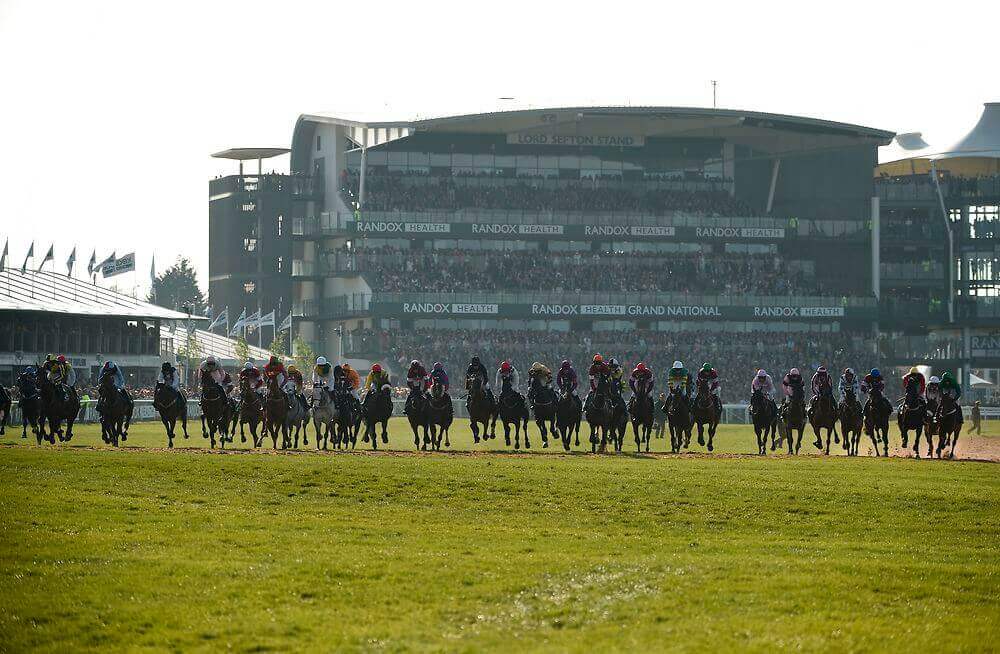 The official weights have been announced for the 2022 Randox Grand National, the world's most iconic jumps race, set to be staged on Saturday, April 9th, at Aintree.
The official entry-list stands at 104 possibles following the weights announcement at a ceremony in Liverpool on Tuesday, with a final field of 40 to eventually face the starter later in the spring.
Minella Times on 161 for repeat
Minella Times was part of history last spring as he carried Rachael Blackmore to become the first female jockey to win the race, in the colours of JP McManus for trainer Henry De Bromhead.
Minella Times has been allotted a mark of 161 for the 2022 renewal, some 15lb higher in the ratings than when winning last time.
He was joined on that mark with an allotted weight of 11st 4lb by Tiger Roll, winner of the race in 2018 and 2019 for Gordon Elliott, Davy Russell and owner Gigginstown House Stud.
The veteran is rated 5lb lower by the BHA handicapper Martin Greenwood compared to last year when his owners felt he was over-burdened and elected to skip the race.
Trainer Elliott initially suggested next month's Cross Country in Cheltenham was the immediate target before any decision on Aintree was made, but Gigginstown boss Michael O'Leary soon quashed that notion with a statement bashing the handicapper's assessment and confirming Tiger Roll's impending retirement after Cheltenham.
Snow set for Aintree
Amongst the leading British hopes – in the betting at least – is Charlie Longsdon's mare Snow Leopardess, who won the Becher Chase over the famous Aintree fences in December in gutsy fashion.
She was also successful as recently as Sunday at Exeter and has been allotted 10st 3lb (official rating 146) for the big race. She's as low as 57th on the current entry-list, though both handicapper Greenwood and trainer Longsdon expressed their confidence she will get into the final 40.
No mare has won the race since Nickel Coin all the way back in 1951, though Jessica Harrington's Magic Of Light did finish second when Tiger Roll won for the second time in 2019.
Longsdon admits that Snow Leopardess' story is likely to capture the attention of the public and ensure the grey is popular.
"You certainly hope to get in being number 57 on the list as it is normally about 70-odd that gets in," he said.
"Her story, with her being a mum, is the sort of story I can see people really latching on to over the next couple of months. I can see people over the next couple of months talking about the Grand National runner with a child.
"You only have to see on Twitter the number of people who are getting excited and getting involved. You look through all the people who message you and tweet you, and it is amazing how many people do get in touch. It is all positive, and we are all excited."
Ted hoping Any Second Now can thrive
Any Second Now, trained by previous Grand National-winning handler Ted Walsh, has been allotted 11st 2lb on an official rating of 159, up 7lb from when third to Minella Times last time.
Walsh, who has teamed up with son Ruby to win with Papillon in 2000 and daughter Katie, third on Seabass in 2012, believe his charge is right in the mix again, having suffered interference on the second circuit last time under Mark Walsh.
"I knew he was going to get a few pounds more as he was third in the National last year. He was a bit unlucky then – whether he'd have beaten the winner, I'm not sure, but he'd definitely have been closer," Walsh said.
"When you get to my age, you don't get too many more chances to win it again! I'd like to win it again, I must say. It was great to win it once, and it would be marvellous to win it twice."
2022 Grand National weights: Full List
1 Conflated, 11st 10lb (167)
2 Galvin, 11st 10lb (167)
3 Melon, 11st 6lb, (163)
4 Chris's Dream, 11st 5lb (162)
5 Franco De Port, 11st 4lb (161)
6 Minella Times, 11st 4lb (161)
7 Tiger Roll, 11st 4lb (161)
8 Chantry House, 11st 3lb (160)
9 Delta Work, 11st 3lb (160)
10 Any Second Now, 11st 2lb (159)
11 Easysland, 11st 2lb (159)
12 Run Wild Fred, 11st 1lb (158)
13 Battleoverdoyen, 11st (157)
14 Brahma Bull, 11st (157)
15 Lostintranslation, 11st (157)
16 Assemble, 10st 13lb (156)
17 Burrows Saint, 10st 13lb (156)
18 Mount Ida, 10st 13lb (156)
19 Fiddlerontheroof, 10st 12lb (155)
20 Longhouse Poet, 10st 12lb (155)
21 Two For Gold, 10st 11lb (154)
22 Eklat De Rire, 10st 10lb (153)
23 Santini, 10st 10lb (153)
24 Chatham Street Lad, 10st 9lb (152)
25 Escaria Ten, 10st 9lb (152)
26 Farclas, 10st 9lb (152)
27 Off You Go, 10st 9lb (152)
28 Ontheropes, 10st 9lb (152)
29 Samcro, 10st 9lb (152)
30 Itchy Feet, 10st 8lb (151)
31 Windsor Avenue, 10st 8lb (151)
32 Coko Beach, 10st 7lb (150)
33 Good Boy Bobby, 10st 7lb (150)
34 Lord Du Mesnil, 10st 7lb (150)
35 Caribean Boy, 10st 6lb (149)
36 Court Maid, 10st 6lb (149)
37 De Rasher Counter, 10st 6lb (149)
38 Sam Brown 10st 6lb (149)
39 Anibale Fly, 10st 5lb (148)
40 Braeside, 10st 5lb (148)
41 Dingo Dollar, 10st 5lb (148)
42 Discorama, 10st 5lb (148)
43 Enjoy D'Allen, 10st 5lb (148)
44 Highland Hunter, 10st 5lb (148)
45 Kildisart, 10st 5lb (148)
46 Top Ville Ben, 10st 5lb (148)
47 Class Conti, 10st 4lb (147)
48 Cloth Cap, 10st 4lb (147)
49 El Presente, 10st 4lb (147)
50 Freewheelin Dylan, 10st 4lb (147)
51 Jett, 10st 4lb (147)
52 Mighty Thunder, 10st 4lb (147)
53 Noble Yeats, 10st 4lb (147)
54 Agusta Gold, 10st 3lb (146)
55 Cloudy Glen, 10st 3lb (146)
56 Phoenix Way, 10st 3lb (146)
57 Snow Leopardess, 10st 3lb (146)
58 Blaklion, 10st 2lb (145)
59 Deise Aba, 10st 2lb (145)
60 Kalooki, 10st 2lb (145)
61 Milan Native, 10st 2lb (145)
62 Poker Party, 10st 2lb (145)
63 Death Duty, 10st 1lb (144)
64 Domaine De L'Isle, 10st 1lb (144)
65 Go Another One, 10st 1lb (144)
66 The Big Dog, 10st 1lb (144)
67 Eclair Surf, 10st (143)
68 Fortescue, 10st (143)
69 Commodore, 9st 13lb (142)
70 Romain De Senam, 9st 13lb (142)
71 School Boy Hours, 9st 13lb (142)
72 Back On The Lash, 9st 12lb (141)
73 Elegant Escape, 9st 11lb (140)
74 Full Back, 9st 11lb (140)
75 Mister Fogpatches, 9st 11lb (140)
76 Roi Mage, 9st 11lb (140)
77 Scoir Mear, 9st 11lb (140)
78 Smoking Gun, 9st 11lb (140)
79 Uisce Beatha, 9st 11lb (140)
80 Kauto Riko, 9st 10lb (139)
81 Mac Tottie, 9st 10lb (139)
82 Discordantly, 9st 9lb (138)
83 Hill Sixteen, 9st 9lb (138)
84 Kapcorse, 9st 9lb (138)
85 Plan Of Attack, 9st 9lb (138)
86 Potters Corner, 9st 9lb (138)
87 Secret Reprieve, 9st 9lb (138)
88 Defi Bleu, 9st 8lb (137)
89 Definite Plan, 9st 8lb (137)
90 Mister Whitaker, 9st 8lb (137)
91 Mortal, 9st 8lb (137)
92 Robin Des Foret, 9st 8lb (137)
93 Achille, 9st 6lb (135)
94 Eurobot, 9st 6lb (135)
95 Larry, 9st 6lb (135)
96 Pink Eyed Pedro, 9st 6lb (135)
97 The Two Amigos, 9st 5lb (134)
98 The Hollow Ginge, 9st 3lb (132)
99 Alpha Des Obeaux, 9st 1lb (130)
100 Didero Vallis, 9st 1lb (130)
101 Gwencily Berbas, 9st 1lb (130)
102 Jerrysback, 9st 1lb (130)
103 Stones And Roses, 9st 1lb (130)
104 Via Dolorosa, 8st 10lb (125)
Latest News
October 26th 2023, 1:24 pm
RACING-ENG-NATIONAL Jockeys ride their horses after starting the Grand National horse race on the final day of the Grand National Festival at Aintree Racecourse on April 6, 2019. Oli SCARFF / AFP The most famous steeplechase in the world, the Randox Grand National at Aintree, is set to undergo some significant change from 2024 onwards […]
October 11th 2023, 12:27 pm
Image via @GBRacing on X Trainer Christian Williams is looking forward to the journey that he hopes will bring him to Aintree in the spring with star staying chaser Kitty's Light for a tilt at the Grand National. The Ogmore Castle-based handler is adamant that Kitty's Light is 'made' for Aintree in the spring and […]
September 20th 2023, 10:43 am
Image via @RacingTV on X Grand National hero Corach Rambler is likely to begin the new season at Kelso in late October, says trainer Lucinda Russell. The three-and-a-quarter-mile Edinburgh Gin Chase at the Borders track on October 28th is being touted as a starting point for a horse with Cheltenham Gold Cup aspirations this season. […]