March 24th 2021, 10:23 am
By GrandNational.org.uk
Over 717,000 Brits admit to cheating on their partner 'as a treat', according to a new study*.
The research from GrandNational.org.uk surveyed Brits on various pastimes they treat themselves to once per year, with 2% admitting to cheating on their spouse.
Respondents from Belfast were most likely to be disloyal to a partner (7%), with people from Southampton (6%) and Bristol (5%) proving not to be particularly faithful either.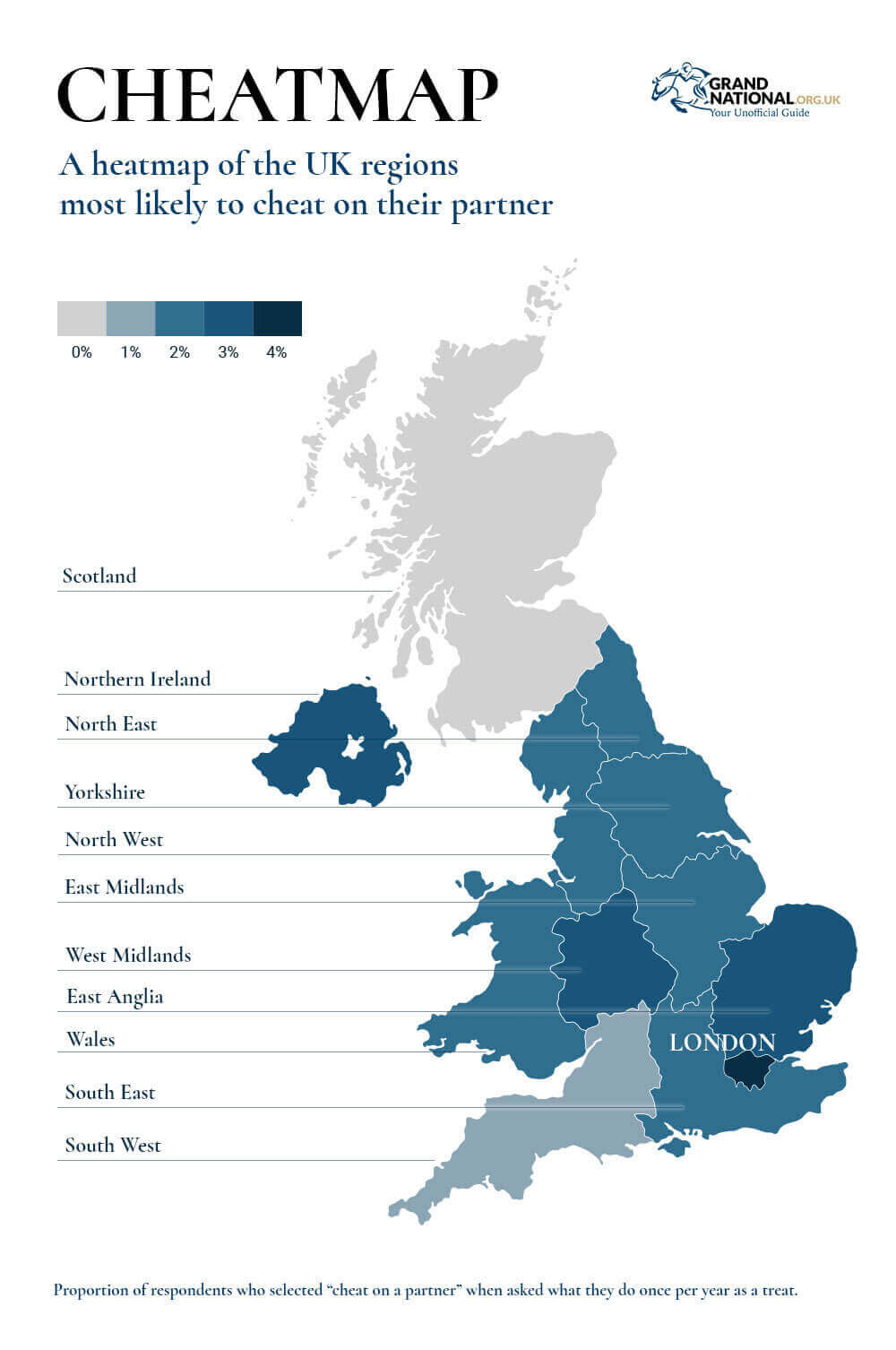 Other slightly riskier treats include skiving off work and spending a whole day naked, with 3% of respondents admitting to doing either one on an annual basis.
Going on a holiday ranked as the top yearly indulgence, while placing a bet on events such as the Grand National also featured in the top five.

The study also asked Brits what activities they try to put off doing more than once per year, with 4% admitting to avoiding seeing their in-laws more than one day in 365.
Women (5%) are more likely than men (3%) to try steering clear of a mother or father in-law, while Bristol is home to those least fond of their partner's parents (7%).
Various housework tasks dominate the list of activities people try to avoid most, but health and fitness also appears low on Brits' agendas – over one in 10 Brits avoid exercising more than once per year (12%).
Top activities Brits try to avoid doing more than once per year:
| Rank | Activity | Proportion of Brits admitting to doing it |
| --- | --- | --- |
| 1 | Big house clean | 29% |
| 2 | Declutter belongings | 28% |
| 3 | Clear out wardrobe | 25% |
| 4 | Defrost the freezer | 25% |
| 5 | Clear out kitchen cupboards | 24% |
Ahead of the Grand National on 10th April, respondents were also asked how likely they are to bet on the race, finding almost half the country will get involved, and 13% stated it's the only event they ever put money on.
The race is most popular in Glasgow, where three in five people back a runner in the National. Punters are also well represented in Birmingham and Liverpool (57% and 56% respectively).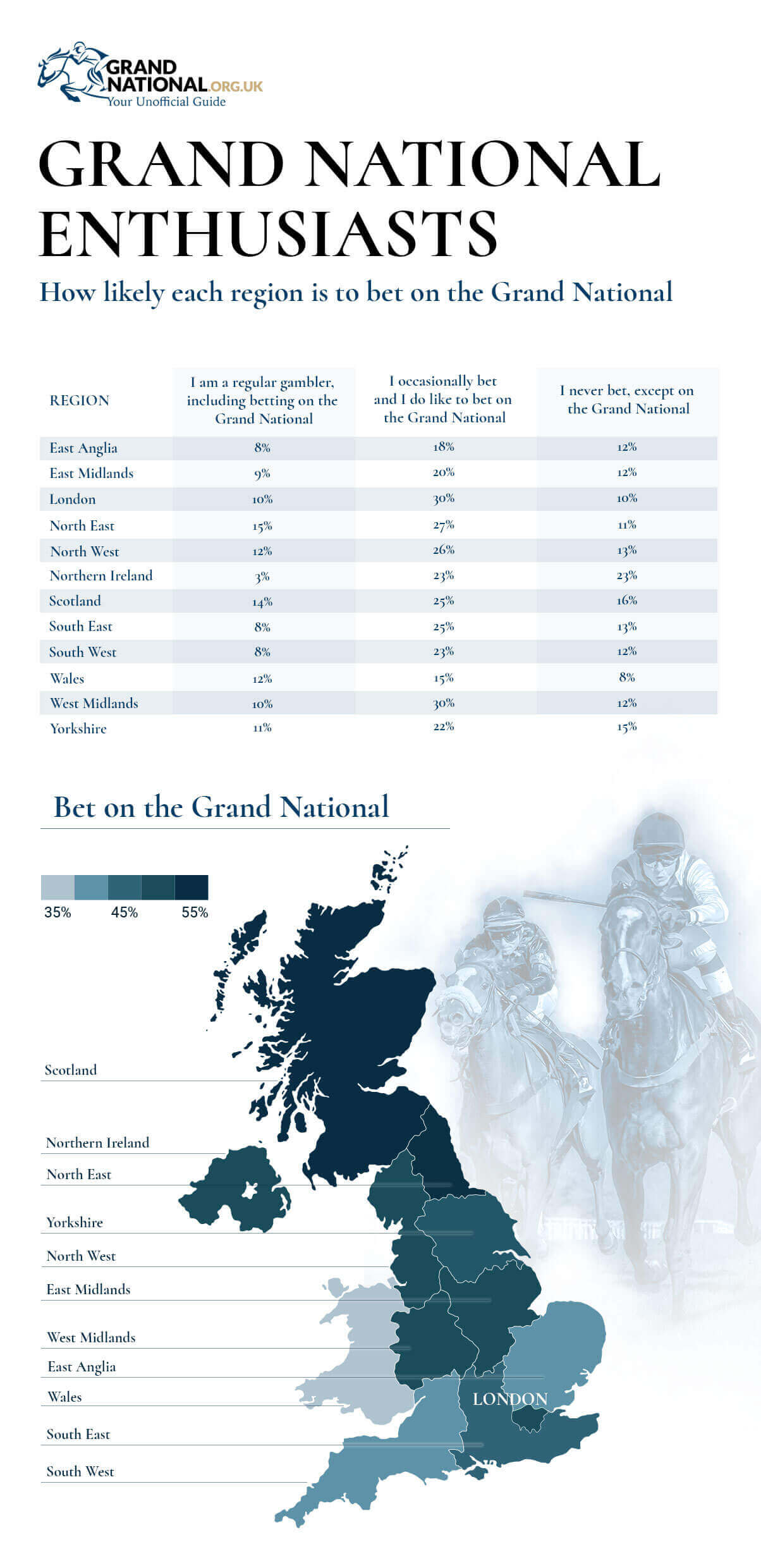 ===
Methodology
· The research was carried out online by Research Without Barriers – RWB
· All surveys were conducted between 25th February 2021 and 1st March 2021
· The sample comprised 2,050 UK adults
*Figure calculated using the following information:
· 55,193,000 UK adults (ONS)
· 65% of respondents were married / in a relationship
· 2% admitted to cheating on a partner
· 55,193,000 x 0.65 x 0.02 = 717,509 people
Latest News
October 26th 2023, 1:24 pm
RACING-ENG-NATIONAL Jockeys ride their horses after starting the Grand National horse race on the final day of the Grand National Festival at Aintree Racecourse on April 6, 2019. Oli SCARFF / AFP The most famous steeplechase in the world, the Randox Grand National at Aintree, is set to undergo some significant change from 2024 onwards […]
October 11th 2023, 12:27 pm
Image via @GBRacing on X Trainer Christian Williams is looking forward to the journey that he hopes will bring him to Aintree in the spring with star staying chaser Kitty's Light for a tilt at the Grand National. The Ogmore Castle-based handler is adamant that Kitty's Light is 'made' for Aintree in the spring and […]
September 20th 2023, 10:43 am
Image via @RacingTV on X Grand National hero Corach Rambler is likely to begin the new season at Kelso in late October, says trainer Lucinda Russell. The three-and-a-quarter-mile Edinburgh Gin Chase at the Borders track on October 28th is being touted as a starting point for a horse with Cheltenham Gold Cup aspirations this season. […]